Upholstery is among the areas of the house that is sometimes ignored while cleaning. Furthermore, when they wash the upholstery by themself, they never do a good job.
When it comes to experts, many individuals are hesitant that they would obtain solid results if they hire a professional couch cleaning. Trust us when we say that expert upholstery cleaning has several advantages.
There is, without a doubt, nothing better than expert upholstery cleaning to renew and extend the life of your upholstery. Furthermore, you could accomplish it at a low cost.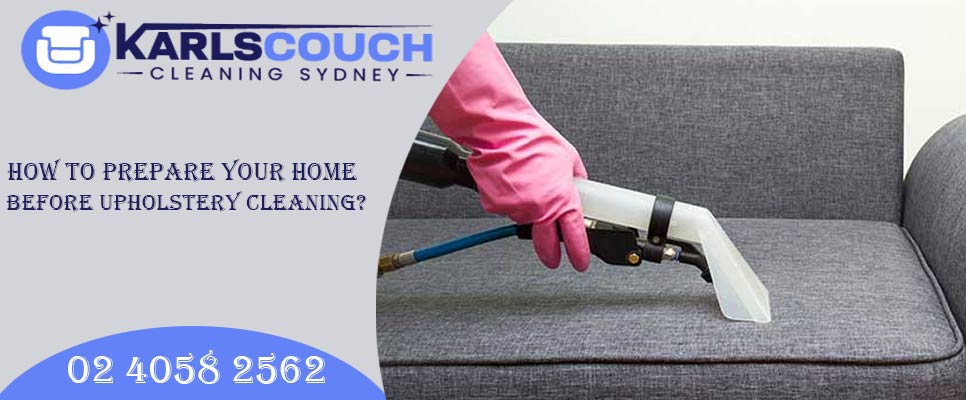 All cleaning procedures are chosen based on the needs of the fabric that your furniture is made of. The quality and fabric of the furnishings differ. The highly experienced specialists will consider all of the circumstances around your furniture to ensure that the fabric couch cleaning procedure is not only successful but also does not harm your furniture.
Before you start cleaning your furniture, make sure your house is in good condition
Ensure that your upholstery is professionally cleaned every twelve to eighteen months. So, what could you do now? You can get your home ready for upholstery cleaning. Here is a perfectly assembled upholstery cleaning preparation guide for you by professional upholstery cleaners.
#1: Get rid of the clutter
Firstly, there will always be a genuine approach to cleaning upholstery. Removing clutter off the floor as well as the furnishings itself would go a long way. Falling hazards can be created by shoes and toys on the ground. Aside from that, comforters and cushions on the furniture might block the view. If you lay these items aside before the specialist comes, the upholstery cleaner will be able to do the job swiftly.
#2: Move your furnishings away from the house walls by a few feet
Skilled upholstery cleaners need unrestricted access to all edges of your furniture to wash the upholstery as precisely as possible. If you believe that cleaning the back of the upholstery is unnecessary owing to the back having pressed up against the wall, you are correct. Cleaning only a portion of the upholstery may result in discolouration. You should relocate the item to a different spot. Experienced upholstery cleaning services will just be able to reach all edges of your upholstery and provide a high level of cleaning if only you remove the furniture just a few feet away from the wall.
# 3: Make a list of the most impacted regions
The cleaners are skilled! Shadows and Lighting, on the other hand, can cover flaws and cover troubled regions from view. Make a list of any areas that you feel require special attention and be careful to point these out to the specialist when he comes.
#4: Maintain a clean route for simple and speedy access
Upholstery cleaners must move their gear to the furniture, so keep the walk from the front entrance to the bedroom where the cleaning will take place clean. For starters, it expedites the cleaning process and decreases the possibility of falling on anything when transporting tools to and from the car.
#5: Make preparations for your pets even before the visit
Keep your pets far from the cleared area. As a result, the cleaning procedure will be completed swiftly. This is because pets can take a lot of time to get familiar with the cleaners. Moreover, they will run here and there which can create disturbance for the professionals throughout the cleaning process.
If you plan ahead of time, the cleaning process would take little time. Only specialists can perform safe and effective cleaning that removes dirt, eliminates filth, and cleanses stains, leaving you with bright, clean upholstery in your business or home.
Conclusion
All the above-mentioned upholstery cleaning preparation guide points are only to help professionals do their job effectively and quickly. If you want your upholstery furniture cleaned as soon as possible then following this upholstery cleaning preparation guide is the way to go. Moreover, avoid cleaning your upholstery on your own because it can risk the upholstery from being damaged. So, for a swift upholstery cleaning service, all you have to do is declutter your house, take care of your pets, and move your furniture away from the wall for better cleaning.