Hire The Best And Most Reliable Couch Cleaning Team In Cremorne
If you're looking for top-quality couch and upholstery cleaning services in Cremorne, look no further than Karls Couch Cleaning Sydney. Our team has been rated the best in the business for delivering exceptional cleaning services that leave your furniture looking and smelling fresh. Contact us today at 02 4058 2562 and avail our high quality and effective Upholstery Cleaning Cremorne services at pocket-friendly prices.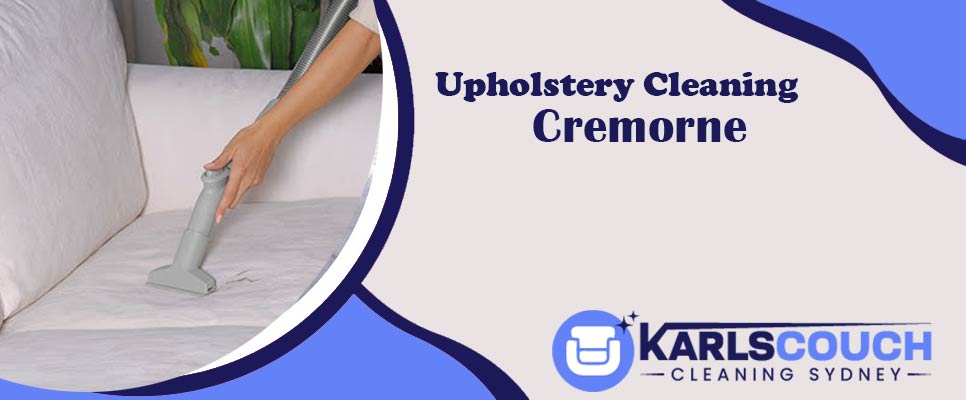 Why Professional Couch Cleaning Matters
Professional cleaning is crucial for maintaining the longevity of your furniture. When you trust the experts with the job, you can rest assured that your couches and upholstery are in safe hands.
Professional cleaning helps to remove even the most stubborn stains, and it also prevents the growth of mould, which can pose health hazards.
Additionally, professional cleaning reduces the amount of particulate matter in your home's air, improving indoor air quality.
#1 Same-Day and Emergency Couch Cleaning Cremorne Services
Cleaning your couches and upholstery can be a time-consuming and challenging task. That's why you should rely on our professionals to do the job. Our upholstery and couch cleaning Cremorne services are available across all regions in Cremorne, including residential and commercial properties. We offer same-day services, and in case of emergencies, we're available to assist you within 24 hours of booking. Contact us today at 02 4058 2562 to experience the best cleaning services for your couches and upholstery.
Karls Couch Cleaning provides a wide range of couch and upholstery cleaning services in Cremorne to meet the needs of our clients. Our team can offer the following services:
Some dirt particles and microbes cannot be removed by simple cleaning methods. Our couch steam cleaning services can help you achieve great results.
Stubborn and old stains can ruin the appearance of your couch. We can remove even the toughest stains using the best couch stain removal techniques.
If your couch is sensitive to water or steam, couch dry cleaning is the best option. We use the right products to make your couches clean and dust-free.
If your couch emits a foul odour, we offer couch odour and couch mould removal services that will make your couch smell fresh and fragrant. It also prevents and removes mould growth.
Couch Shampooing
Our expert couch shampooing services can make your couches look magnificent by removing particulate matter using the right detergents and shampooing agents.
Scotchgard protection can prevent your couches from getting stained by accidental spills. Contact us to get our Couch Scotchgard Protection services.
If you're a pet owner dealing with pet odour and fur issues, our experts offer the best couch pet odour removal services to make your couches comfortable to use.
In addition to couches, we also offer lounge cleaning services. We can make your lounges squeaky clean using the best cleaning agents.
Leather and fabric couches require different cleaning methods. We offer both fabric couch cleaning and leather couch cleaning services to make your couches immaculate.
We offer microfiber couch cleaning and microsuede couch cleaning services that are suitable for your microfiber couches.
Office Chair Cleaning
Cleaning office chairs requires a lot of attention and care. Our team takes up the job promptly to offer our services without any delay.
Suede Sofa Cleaning
Our suede sofa cleaning involves specialized techniques to gently remove dirt and stains, restoring its plush texture and vibrant appearance.
Ottoman Cleaning
Our ottoman cleaning requires careful attention to detail, as it involves the thorough removal of debris and stains from the fabric or leather surface.
Banishing All Couch Stains: Our Stain Removal Services By Professionals
Grease stains
Wine stains
Marker stains
Tomato sauce stains
Pet stains
Ketchup stains
Coffee stains
Oil stains
Grass stains
Ink stains
Lipstick stains
Tea stains
Mud stains
Soy sauce stains
Rust stains
Blood stains
Food stains
Juice stains
Nail polish stains
Chocolate stains
Get All Types Of Upholstery Cleaned At Affordable Prices
We can clean various types of couches and upholstery with visible results. The following are the types that we can clean:
Microfiber couches
Leather couches
Office chairs
Seat cushions
Couch arms
Recliners
Back pillows
Three-seater couches
Corner skirt panels
Side skirt couches
Top cushions on both sides
Inside arms steam cleaning, etc.
Our Thorough Couch Cleaning Process
Are you curious about our professional couch and upholstery cleaning methods? At Cremorne, we offer tailored cleaning services that are strategically approached for excellent results. Our process includes the following steps:
Inspection: To customize our services, we thoroughly inspect all couches and upholstery to determine their condition.
Pretreatment and vacuuming: This step is essential for effective cleaning, making our services more efficient.
Suitable cleaning method: Our sofa and couch cleaning Cremorne experts select the most appropriate cleaning method after understanding the requirements.
Couch protection treatment: To protect your couch, we offer a Scotchgard protection service.
Effective drying: Our highly efficient dryers and dehumidifiers remove all water and moisture from your couches, making them thoroughly dry.
Final inspection: Our experts inspect your couches to ensure no remnants are left behind.
We Are Available In These Nearby Areas Also
Why Hire Karls Couch Cleaning Experts
Choosing our services has several benefits:
We offer affordable and reasonable prices.
Our upholstery and lounge cleaning Cremorne team are easily accessible, and you can get our services with just one phone call.
Our services are non-toxic, ensuring safety for you and your family.
We use the latest methods to make your couches and upholstery spotless.
Our highly competent and skilled experts are aware of all cleaning methods, guaranteeing excellent results.
FAQs
How Much Does It Cost To Clean An Upholstery?
Professional upholstery cleaning costs vary based on factors like furniture size, upholstery type, and cleaning needs. Typically, cleaning a single-seat cushion or dining chair costs $50-$100, while sofas range from $100 to $300. Extra charges may apply for additional services.
How Long Does It Take To Clean A Standard-Sized Couch or Sofa?
The time required to clean a standard-sized couch or sofa typically ranges from 1 to 2 hours.
How Often Should I Have My Upholstery Cleaned?
To keep your upholstery clean and prolong its lifespan, it is generally advised to have it professionally cleaned every 12 to 24 months.
About Cremorne
Cremorne is situated in the Lower North Shore region of Sydney, New South Wales, Australia. It is located 6 kilometres to the northeast of the Sydney central business district and falls under the jurisdiction of the North Sydney Council, which is responsible for local governance.
Postcode: 2090
Latitude: -33.8273249
Longitude: 151.2251219
Upholstery Cleaning Cremorne
Call Us On 02 4058 2562 24×7 Upholstery Cleaning
Location: Cremorne, NSW 2090, Australia