Best Company For Couch Cleaning And Mould Removal
Are you looking for a professional couch mould removal service? Karls Couch Cleaning is the best company that specializes in providing services such as couch steam cleaning and dry cleaning for mould removal. We are located in Sydney and offer several couch cleaning options with the facility of Couch Mould Removal.
We have many years of experience in the industry and we have helped hundreds of customers over the years. Our services are available for all types of couches, including leather couches and sectional sofas. We also offer services such as sofa cushion cleaning, sofa upholstery cleaning, couch exterior cleaning and more. Call us now!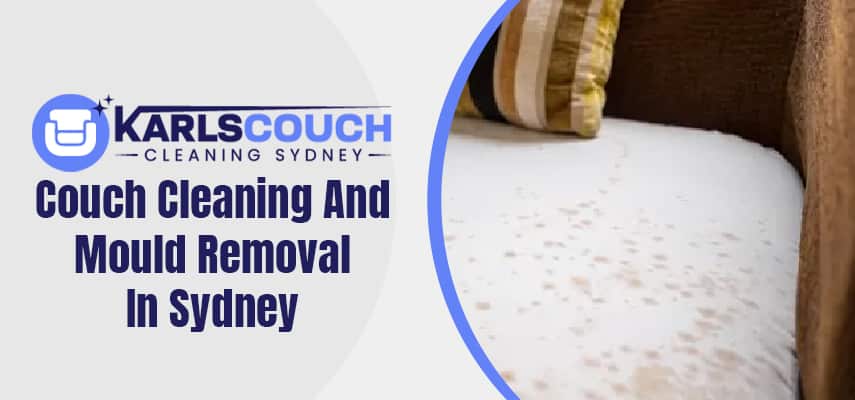 The Major Benefits Of Having Couch Mould Removal Services
Cleaning a couch is a job that many people would rather not do. It's time-consuming and tedious, and it's just not something that we want to spend our time doing. But there are a lot of benefits to cleaning your couch when it is moulded.
Couch mould removal enhances the appearance of your couch as cleaning and mould removal remove all dirt and stains from the couch.
If you get your couch mould professionally cleaned, it will also protect your couch from pet accidents, spills, and stains.
Couch mould removal also purifies air quality with a fresh scent.
It also helps to extend the lifespan of your couch by up to 2-3 years.
So, don't ignore the issues and always hire professional couch steam cleaning, Couch Mould Removal or other professional couch cleaning services for any type of your couch.
Our Professional Couch Cleaning Services To Remove Moulds
For Couch Mould Removal, there are many services. We offer quality service and help people to achieve their goal to keep their couches fresh and clean while maintaining their homes. Here are some options.
Couch Dry Cleaning

We have the best couch dry cleaning service. Our team of trained professionals has years of experience and the latest equipment to get the job done right. We specialize in couch mould removal, but we also clean everything to make your couch mould-free.

Couch Odour Treatment

We offer couch odour removal services to our customers as well as all required facilities. We make everything we do as convenient as possible so that our clients won't have to worry about anything when they come in to pick up their couch or drop it off at our facility for removing odour from the couch.

Scotchgard Couch Protection Treatment

For keeping your couch mould and stain-free, you can trust our company services. You can trust us because we've been in business for the last 25 years. We treat every client like family, so if there's ever anything we can do for you, don't hesitate to reach us.

Couch Stain Removal

We make sure your couch stays fresh and clean at all times. We come to your home or office, remove the mould stains and dirt from your couch, and then vacuum it up so it's ready for you to use again immediately.

Couch Sanitisation

Our couch sanitisation service is the best way to get rid of the germs on your sofa that may have been left behind by moulds. We use special methods and equipment to guarantee that you are getting the best possible sanitising service for your couch.

Couch Steam Cleaning
Our professional couch cleaners are trained to provide you with the best possible couch steam cleaning service at a fair price. We will remove any mould stains, odours, or other indicators of contamination from your couches through our steam cleaning process.
Our Best and Most Efficient Couch Mould Removal Service
Our couch mould removal process can be done quickly and easily. There are two ways to remove the mould from your couch: using a vacuum cleaner or using a steam cleaner. We use both according to the couch condition.
To use the vacuum cleaner, we start by taking off all of the cushions and pillows from your couch, then we start vacuuming. Our experts also make sure we get into all of the nooks and crannies on your furniture with our vacuum attachment to remove as much mould as possible.
We can use a steam cleaner. It is the best way to get rid of mould. We spray hot water onto the mouldy surface and kill it off in just seconds.
So, you can get to us for the best services of Couch Mould Removal in Sydney.
When To Call A Professional Couch Cleaner
Our local couch cleaners are available for hire every day of the week. The best time to hire a couch cleaner is when you can see mould but have no idea what to do. When you call our professionals, they will come over and clean your couch for you in an hour or two. It's that simple and you just need to check that:
Your couch is faded or not over time
Your couch has stains and spills
The pet hair on the couch
The visible moulds on the couch
Feeling uncomfortable while sitting on the couch
However, you can call experts when you consider it's the right time for you.
Why Do People Choose Our Professional Couch Cleaning Company?
Karls Couch Cleaning is the best because:
Our cleaners are experienced and trained in cleaning upholstery.
We offer free estimates, so you can be sure we're the right fit for your home or business.
Our Upholstery Cleaning Company uses an eco-friendly method of cleaning that is safe for your upholstery, as well as the environment.
We use a professional cleaning product that leaves your upholstery looking brand new.
We offer FREE estimates.
We are here to help you maintain a quality of life that you can enjoy. So, call us right now to get the best experience of having Professional Couch Cleaning Services anywhere in Sydney.
FAQs
Q. How should mould on a couch be cleaned properly at home?
A solution of warm water and liquid detergent can be used to clean mould on a couch. You can also use a dry-cleaning detergent or a light detergent with a steam vacuum.
Q. Why is cleaning the mould on a couch necessary?
Your upholstery will look good if you keep it clean, keeping the colours vibrant and the textures as they should be. Cleaning mould removes stains and odours as well. It's even more crucial to keep your couch mould-free because continuous exposure to these pollutants can damage your upholstery.
Q. How frequently should couches be cleaned?
Your upholstery should be properly cleaned once or twice a year to preserve a completely healthy house. Every three to four months, if you have kids or dogs, we advise cleaning.