A leather sofa or couch can be a sophisticated addition to your living room, offering style and comfort. But with good things come significant responsibilities, and caring for your leather sofa or couch can sometimes be challenging. If you regularly clean and condition your furniture, that can be greatly helpful in maintaining its durability. Make sure you don't take a long time cleaning your upholstery, as it can lead to a significant accumulation of dust and germs. Here you will learn how to clean and protect a leather couch and sofa and get as good as a new one.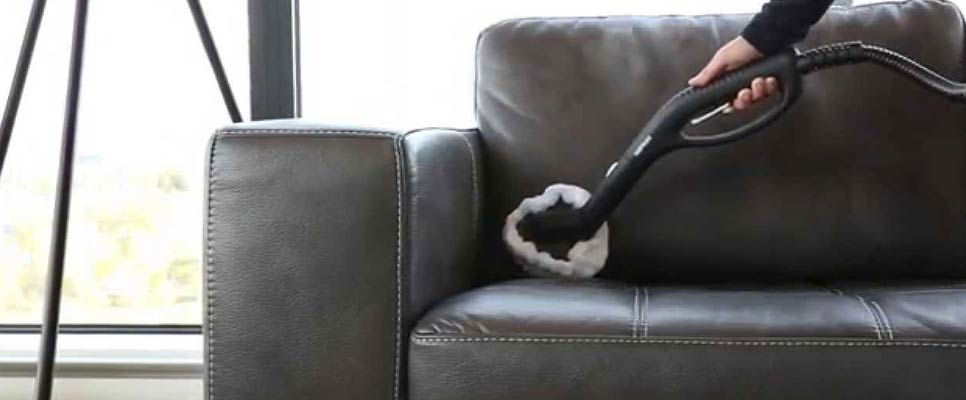 Steps To Clean Leather Sofa & Couch
You need to follow several steps to make your leather couch and sofa properly clean without causing any damage to the fabric.
Step 1: Identify The Leather Type
Firstly you need to identify the type of leather. Not all your couch and sofa material needs to be the same; therefore, each type requires different care and cleaning. Some leathers are delicate and need specific treatment, while some are durable and can uphold heavy cleaning. Before starting any upholstery cleaning method, check the manufacturer's instructions for your sofa.
If no instructions are available, you can do a spot test on any hidden area to ensure that the solution you apply is not harmful to the leather. It will make further cleaning easy and efficient as you are now sure about using cleaning agents and specific equipment.
Step 2: Remove Dirt And Dust
Before starting with deep cleaning your couch, make sure to eliminate any kind of dirt and dust that has accumulated over time on the surface. To remove the dirt effectively, you can use a soft bristles brush or a vacuum cleaner with an attachment for gently brushing the surface area.
It will remove any loose dirt or crumbs that may be settled on the leather. This step will make the cleaning process work out more effectively and give excellent results.
Step 3: Clean Leather
After removing all the debris, it's time to clean the couch or sofa. There are several cleaning products available specially made for leather couches and sofas. But you can also prepare your cleaning agent by mixing mild soap and water. Keep in mind that you are not using any harsh chemicals like furniture, polish, or bleach, as they can cause harm to the fabric of the furniture.
Damp soft cloth into the cleaning solution and gently wipe off the area of the leather couch. Avoid saturating the cloth, as more moisture can damage the fabric. Concentrate on a small area and remember to clean in a circular motion rather than applying back and forth motion, which can be responsible for stretching and distorting the leather.
Step 4: Address Stains And Marks
In case of stains on the couch and sofa, you should use a special leather cleaner to handle the problem. You can also use a mix of water and vinegar readily available at home. Apply the solution to a cloth and gently rub the affected area.
Avoid scrubbing too hard, as that can cause the stain to spread and make it tougher to remove. Removing the stains is an essential part of cleaning your leather furniture. Make sure that you are carefully eliminating all the stains without causing any damage to your furniture.
Step 5: Condition The Leather
Once you are done cleaning, the next step is conditioning the fabric, which prevents it from cracking and drying out. You can use leather conditioners specially designed to restore the natural oils to the fabric and keep it moisturized and supple.
Apply the product with a smooth cloth and let it soak in for several hours. Make sure to put the material in a dry cloth after conditioning to remove any extra moisture. Conditioning is considered one of the most important parts as it will leave your leather couch and sofa as good as a new one and make it look properly, cleaned, and fresh.
Step 6: Protect The Leather
You should also consider protecting the leather couch and sofa to prevent future damage and stains. Ensure you do not place it in direct sunlight, as it can lead to fading and drying out of the leather.
You should use a leather protectant spray to create a barrier on the surface area and prevent liquids from soaking into the fabric. Remember to reapply the spray every few months to ensure maximum efficiency and effectiveness.
Final Words
Maintaining a pristine and clean leather sofa is an easy task if necessary precautions are taken. Regular cleaning will keep the fabric looking at its best for years to come. Make sure to check the manufacturer's instructions before starting any cleaning process. It will help you in preventing any damage to the leather. By learning all such steps, you can now know how to clean and protect a leather couch and sofa. Thus you can now keep your furniture in good condition and make it look clean and fresh all the time.