Freshen Up Your Sofa With Top-Quality Cleaning Services in Zetland
If you want to get rid of the accumulated dust, dirt, and bacteria from your upholsteries, then you can rely on the top-quality sofa cleaning services in Zetland. At Karls Couch Cleaning, we provide professional couch steam cleaning that not only refreshes your sofa but also makes it hygienic and healthy. With years of experience and expertise, our Sofa Cleaning Zetland team members ensure the best cleaning for your upholstery at an affordable cost. Contact us now at 02 4058 2562 to book an appointment!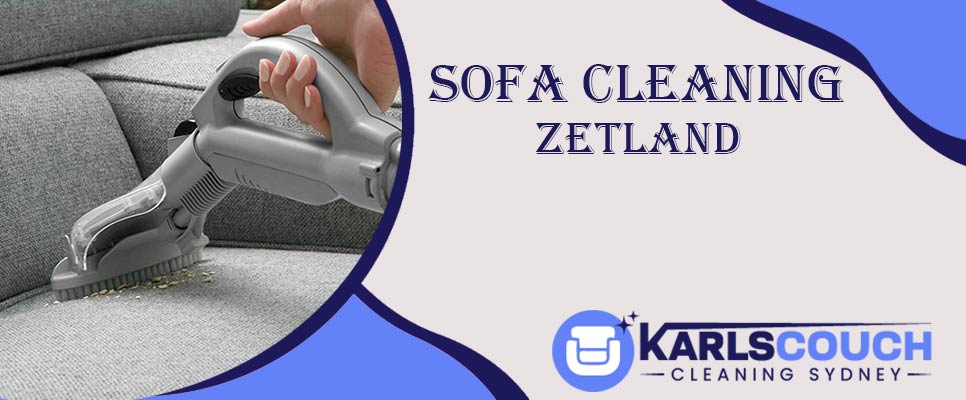 Affordable & Effective Sofa Cleaning Services in Zetland
In Zetland, there are various ways to clean your sofas and sofas. Luckily, you can avail of cleaning services that cater to different needs, including:
Steam cleaning involves the use of advanced techniques, tools, and equipment to get your sofa cleaned in no time. The experts use steamers to sanitize and deodorize your upholstery, making it a healthier place to sit.
Stubborn stains on your sofa can make it look old and unsightly. But don't worry, professionals can help you get rid of those unsightly marks and make your sofa look brand new.
Experts use eco-friendly products to dry clean your sofa and remove harmful components like bacteria, germs, and dust from deep within the fibres. This service is perfect for people who are looking for a quick cleaning solution.
Sofaes can develop unpleasant odours and mould, but professionals can remove them effectively. They will sanitize and deodorize your sofa to eliminate any unpleasant smells and ensure that it's mould-free.
Sofa Shampooing
Shampooing your sofa can be a tedious task. Professionals can help you with this service to get it done quickly and effectively.
Sofa Scotchgard protection is crucial to keep your upholstery healthy and prevent any damage. This will ensure that your sofa stays clean and attractive for a longer time.
Pets can leave an unpleasant odour on your sofa. Experts can use special chemicals and solutions to remove pet odours and make your sofa smell fresh and clean.
Cleaning your lounge can be challenging. But professionals can do it effectively and efficiently, leaving it looking spotless and comfortable to relax in.
Professionals can clean all types of fabric and leather upholstery to make your sofa look perfect and appealing again.
Microfiber sofa cleaning and microsuede sofa cleaning can be challenging. But professionals can handle these tasks with ease, leaving your sofa looking its best.
Office Chair Cleaning
Cleaning many office chairs can be daunting. But professionals can take care of this task and ensure that your chairs are clean and fresh, promoting a healthy working environment.
The Professional Sofa Cleaning Process by Karl's Couch Cleaning
Karl's Couch Cleaning follows a specific process to ensure that your upholstery is cleaned professionally. Here are the steps we take for our upholstery cleaning Zetland services:
Firstly, our experts will inspect your property to assess the condition of your sofa. This pre-inspection helps us understand which cleaning solutions and methods are best suited for your upholstery.
Once the inspection is complete, our professionals will use various advanced cleaning solutions and techniques, including handheld steamers, to clean your upholsteries effectively.
Finally, our sofa and couch cleaning Zetland team will carry out deodorization and sanitization to maintain the hygiene and cleanliness of your upholstery.
All Types Of Upholstery Our Cleaning Professionals Clean
Side Skirt Couch Cleaning
Linen Couch Cleaning
Camelback Sofa Cleaning
Three Seater Upholstery Cleaning
Throw Pillow Sofa Cleaning
Polyester Upholstery Cleaning
Microfiber Couch Cleaning
Couch Arm Cleaning
Sectional Sofa Cleaning
Two Seater Upholstery Cleaning
Corner Skirt Panel Cleaning
Cabriole Sofa Cleaning
Ottoman Cleaning
Modern Upholstery Cleaning
Tuxedo Sofa Cleaning
Lounge Cleaning
Recliner Upholstery Cleaning
Chesterfield Sofa Cleaning
Leather Sofa Cleaning
White Leather Sofa Cleaning
Armchair Cleaning
Microsuede Sofa Cleaning
Lawson Upholstery Cleaning
Cotton Upholstery Cleaning
Our Sofa Cleaning Services Are Available In These Nearby Areas
Benefits of Choosing Karl's Couch Cleaning Professional Team
If you're wondering why you should hire Karl's Sofa Cleaning for your upholstery steam cleaning in Zetland, here are a few reasons:
Our team comprises highly skilled and trained professionals who deliver the best quality cleaning service.
We use advanced cleaning techniques and methods to clean your upholsteries, sofas, and sofas thoroughly.
All our team members are certified by IICRC and other cleaning certifications, ensuring they are qualified professionals.
We have a high-powered steam cleaner specifically designed for sofas, sofas, and upholstered furniture, providing deep and effective cleaning.
About Zetland
Zetland, an inner southern suburb of Sydney in New South Wales, Australia, is located 4 kilometres to the south of the central business district of Sydney. The suburb falls under the local government area of the City of Sydney.
Postcode: 2017
Latitude: -33.9076494
Longitude: 151.2083375
Sofa Cleaning Zetland
Call Us On 02 4058 2562 24×7 Sofa Cleaning
Location: Zetland, NSW 2017, Australia