Schedule Your Appointment Now for High-Quality Lounge Cleaning in Woollahra
Upholstered furniture is the go-to spot for relaxation for family members, pets, and everyone. However, the constant use of sofas and couches leads to the accumulation of moisture, dust, mould, bacteria, and germs inside the lounge, making it unhygienic and unhealthy. Karls Couch Cleaning provides top-notch lounge cleaning in Woollahra, which will not only make your sofa look new but also improve its health and hygiene. You can contact us now at 02 4058 2562 and schedule an appointment with our team of professionals to restore your couch to its former glory. Moreover, our Lounge Cleaning Woollahra services are affordable, ensuring you get the best value for your money.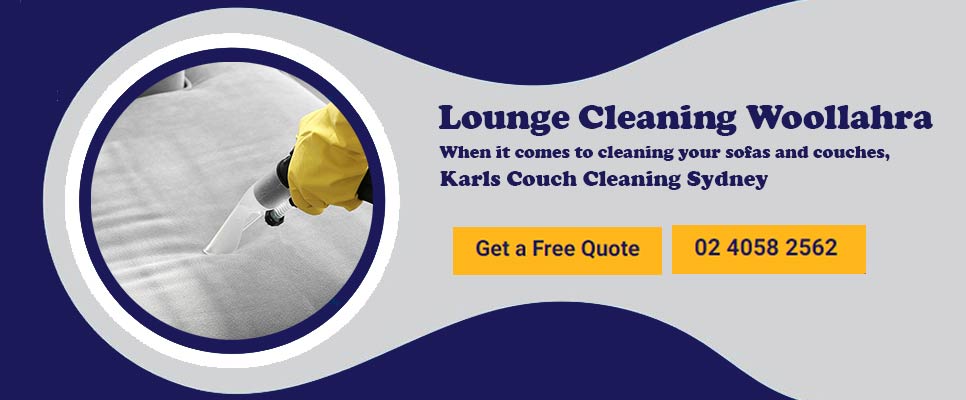 Comprehensive Upholstery Cleaning Services in Woollahra
There are various styles and techniques to clean lounges, sofas and couches, and luckily, you can find different professional couch cleaning services in Woollahra that offer the following:
Professional steam cleaning services use advanced equipment and techniques to get the job done quickly and efficiently. This method not only cleans the upholstery but also makes it healthier.
Stubborn stains can make a couch look old and dirty. But with the help of professional stain removal services, your couch can look like new again.
Dry cleaning is a safe and effective method that uses eco-friendly chemicals to clean the surface and depth of the couch, eliminating dirt, dust, bacteria, germs, and moulds.
The sanitization and deodorization process done by professionals can remove any unpleasant odour or mould from your couch, making it fresh and clean.
Lounge Shampooing
While shampooing a couch can be a tedious task, professionals can get it done quickly and effectively, leaving your couch looking and smelling great.
This last step provides additional protection to keep your couch healthier and free from damage.
Pets can leave their odour on your couch. Luckily, professional services use specialized chemicals and solutions to remove any pet odour.
Professionals can clean any type of fabric and leather upholstery, restoring the couch's original appearance and appeal.
Microfiber and microsuede couches require special care and cleaning, which professionals can provide.
Office Chair Cleaning
Professionals can clean and sanitize all kinds of office chairs, ensuring that they are clean and germ-free.
In summary, with the best quality lounge and couch cleaning Woollahra services, you can have a clean, fresh, and healthy couch that looks like new again.
Areas We Serve Nearby Woollahra
Our professional services are also available in these nearby suburbs of Woollahra:
Our Expert Process For Lounge Cleaning
To ensure professional cleaning of upholsteries, our experts follow a certain process. Here is a breakdown of our upholstery steam cleaning process in Woollahra:
First, our experts will inspect the furniture to determine its condition and what cleaning solutions and methods are required. This pre-inspection is crucial for effective cleaning.
Next, our lounge and sofa cleaning Woollahra team will use advanced cleaning solutions and methods, along with handheld steamers, to clean the upholsteries thoroughly. We ensure that our methods do not damage the fabric.
Finally, our team will perform deodorization and sanitization to maintain the hygiene and health of the upholstery.
Reasons to Choose Karls Couch Cleaning Professionals
Our upholstery cleaning Woollahra service is the best for many reasons. Here are some of them:
Our team comprises trained and skilled professionals who provide top-quality cleaning services.
We use advanced techniques and methods for cleaning upholsteries, sofas, and couches to ensure that they are spotless and hygienic.
All our team members are certified by IICRC and other cleaning organizations, which guarantees that they are professionals in their field.
We use high-powered steam cleaners for couches, sofas, and upholstered furniture, which ensures deep cleaning of the fabric.
About Woollahra
Located in the Eastern Suburbs of Sydney, New South Wales, Australia, Woollahra is a suburb that is situated 5 kilometres to the east of the central business district of Sydney. The local government area for Woollahra is the Municipality of Woollahra.
Postcode: 2025
Latitude: -33.8857354
Longitude: 151.2441558
Lounge Cleaning Rozelle
Call Us On 02 4058 2562 24×7 Lounge Cleaning
Location: Woollahra, NSW 2025, Australia