Get The Most Reliable And Professional Couch Cleaning In Bondi Beach – Call Us Now!
Sofas and couches are the ultimate comfort zones for individuals to relax and unwind. However, frequent use can make them dirty and allergen-laden, especially if you have pets or small children. In such cases, call for professional couch cleaning services in Bondi Beach. Our skilled Couch Cleaning Bondi Beach team of experts will clean your couches and restore them to their pristine state. Call us today at 02 4058 2562!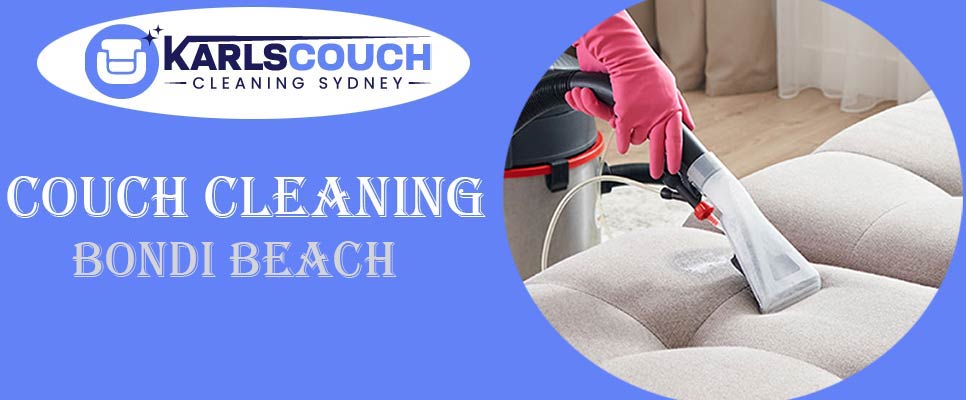 Importance Of Professional Upholstery Cleaning
Our professional couch cleaning offers many benefits, including the following:
Quick and Efficient Service
Professional couch cleaners are trained and experienced to provide quick and efficient services. They use the latest cleaning techniques and products to remove dirt, stains, and allergens from your couch.
Longer Couch Life
Experts' assistance can help expand the life of your couch by treating it with the required cleaning methods. Regular professional cleaning can prevent the accumulation of dirt and allergens that can damage your couch's fabric and structure.
Advanced Techniques and Best Cleaning Products
Professional cleaners use advanced techniques and the best cleaning products to make your couch look new again. They can remove deep stains and embedded dirt that regular cleaning cannot handle.
Sanitization and Deodorization
Professional couch cleaning services also include sanitization and deodorization to keep your couch healthy, hygienic, and odour-free. They can use eco-friendly and non-toxic cleaning products that are safe for your family and pets.
Same Day And Emergency Upholstery Cleaning In Bondi Beach
If you spill liquid or anything else that stains your upholstery, you can get immediate help from professional cleaners. Don't let the stain ruin your expensive couch. Professional upholstery cleaning Bondi Beach services are available 24/7. You can book an appointment during the day for same-day or emergency cleaning. The experts will be available at your place in minimal time.
Types Of Couch Cleaning Services We Offer
There are different types of couch cleaning Bondi Beach services available, depending on your couch's fabric and cleaning needs.
Couch Steam Cleaning
In the couch steam cleaning process, professionals use advanced techniques and handheld or heavy steaming machines to extract dirt from the couch. This method is great for removing germs and bacteria that regular cleaning cannot handle.
Couch Stain Removal
Stains are stubborn and harder to remove if they get stable into the fabric. Therefore, it is best to take help from professionals for couch stain removal. They use professional and effective cleaning product methods to clean the stain.
Couch Dry Cleaning
Professional cleaners use efficacious right cleaning techniques and methods to do couch dry cleaning. This method helps in cleaning the couch's surface effectively, and it has the best cleaning products.
Couch Odour Removal and Mould Removal
Due to regular hours of couch cleaning, it can get odour and mould over the surface and in-depth. Professional assistance for couch odour removal and mould removal can turn it into a healthier one.
Couch Shampooing
Couch shampooing is a critical and time-taking task. You can get in touch with professionals to do couch shampooing and make the work convenient for you.
Couch Scotchgard Protection
Professional cleaners use couch Scotchguard Protection after cleaning and sanitization to protect the couch from bacteria, germs, and harmful components.
Couch Pet Odour Removal
Pets cause several problems, including odour on the couch. Here, professional assistance can use chemicals or eco-friendly products for pet odour removal.
Lounge Cleaning Service
Lounge cleaning is an effort-taking task, which can be sorted with professional cleaning services. The experts have the right cleaning techniques and methods for the job.
Fabric and Leather Couch Cleaning
No matter which fabric or leather type of couches you have, the professionals will do the perfect types of fabric couch cleaning and leather couch.
Different Types of Upholstery We Clean In Bondi Beach
Our skilled professionals are trained to clean different types of upholsteries such as living
Room Chairs
Office Chairs
Single-seater
Double-seater
Triple-seater
Dining Chairs
Our Professional Upholstery Cleaning Process
When it comes to professional couch and sofa cleaning in Bondi Beach, there is a specific process that our experts follow.
First, they inspect the couch to determine which cleaning treatment is best suited for the job.
Next, they carry out the treatment, cleaning, and sanitization of the couch.
Finally, they conduct a post-inspection to ensure that there are no remaining stains, dirt, or mess on the couch.
Couch Cleaning Services in Bondi Beach and Nearby Areas
Our professional upholstery cleaning Bondi Beach services cover areas such as:
We are available 24/7 to serve you with the best quality maintenance.
Why Choose Our Couch Cleaning Services?
Choosing our professional team for couch cleaning services has many advantages:
Quick services with high-quality results
Trained and skilled professionals
Customized cleaning solutions
State-of-the-art cleaning equipment
Affordable pricing
Hassle-free cleaning services
Call us now to get your couches cleaned by the experts!
About Bondi Beach
Bondi Beach is a renowned tourist attraction and a suburban area located in the Eastern Suburbs of Sydney, New South Wales, Australia. It is positioned within the local government area of Waverley Council, just 7 kilometres (4 miles) away from the central business district of Sydney. Bondi Beach attracts a significant number of tourists every year, making it one of the most visited tourist destinations in the country.
Postcode: 2026
Latitude: -33.8909624
Longitude: 151.2727477
Couch Cleaning Bondi Beach
Call Us On 02 4058 2562 Same Day Couch Cleaning
Location: Bondi Beach, NSW 2026, Australia