Book Now for High-Quality Lounge Cleaning in Rozelle
Upholstered furniture is often the go-to spot for family members and pets, but with regular use comes the accumulation of moisture, dust, mould, bacteria, and germs. To restore your sofa's appearance and improve its hygiene, consider scheduling an appointment for couch steam cleaning in Rozelle with Karls Couch Cleaning. Our Lounge Cleaning Rozelle team of professionals will leave your couch looking and feeling refreshed, healthier, and more hygienic than ever before. Plus, our affordable rates for lounge cleaning ensure that you won't have to break the bank to get the results you want. Don't wait, book your appointment now at 02 4058 2562!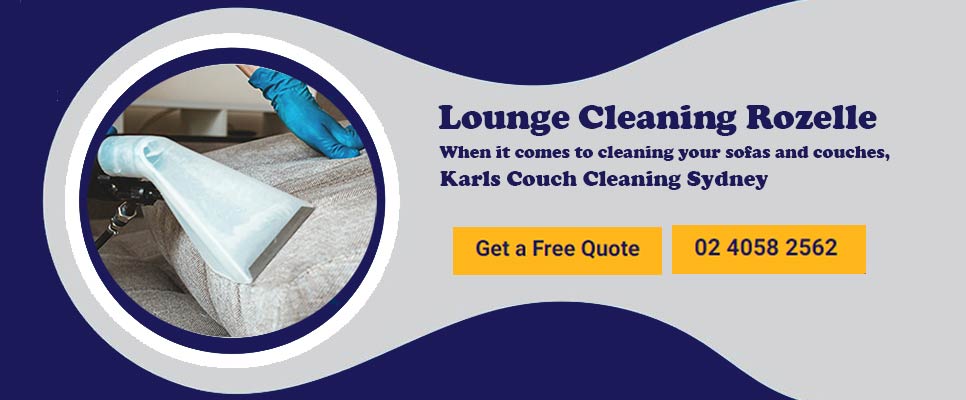 Our Professional Lounge Cleaning Services In Rozelle
When it comes to cleaning sofas and couches, there are various styles and methods available. Luckily, in Rozelle, there are professional cleaning services that cater to different types of couch cleaning needs, including:
This method uses advanced techniques, tools, and equipment to get the job done quickly and effectively, resulting in a healthier couch.
Stubborn stains can make your couch look old and dirty. Professional stain removal services can help turn your couch into a brand new one.
Using eco-friendly products and chemicals, this method cleans the surface and depths of your couch, eliminating dirt, dust, bacteria, germs, and moulds.
Professionals can sanitize and deodorize your couch, removing any unwanted odours or moulds.
Shampooing
While shampooing couches can be a challenging task, professionals can get it done quickly and effectively.
This is an essential step to keeping your couch healthy and protected against damage and messes.
Pets love to sit on couches, which can leave behind unpleasant odours. Professional services can help remove pet odours and chemicals.
Professionals can clean upholstery in all types of fabrics and leather, restoring your couch's appeal.
Service providers can handle microfiber couch cleaning and microsuede couch cleaning with the same level of expertise.
Office Chair Cleaning
Professional cleaning experts can also clean office chairs effectively, ensuring that you don't have to worry about cleaning so many chairs.
In summary, the best quality upholstery steam cleaning in Rozelle services can provide you with a comprehensive guide to professional couch cleaning.
Our Professional Lounge Cleaning Process
To ensure professional cleaning of your upholsteries, our experts follow a certain process. Here's an outline of our upholstery cleaning Rozelle process:
First, our experts will inspect your property to assess the condition of your couch and determine the appropriate cleaning formula, solutions, and methods needed.
Next, our team will use advanced cleaning solutions and methods, including handheld steamers, to thoroughly clean your upholsteries.
Finally, we'll do deodorization and sanitization to maintain the cleanliness and hygiene of your upholsteries.
Different Types of Upholsteries Our Experts Clean
Microsuede Sofa Cleaning
Chesterfield Sofa Cleaning
Leather Sofa Cleaning
Lounge Cleaning
Tuxedo Sofa Cleaning
Armchair Cleaning
Ottoman Cleaning
Recliner Upholstery Cleaning
White Leather Sofa Cleaning
Cotton Upholstery Cleaning
Lawson Upholstery Cleaning
Modern Upholstery Cleaning
Sectional Sofa Cleaning
Throw Pillow Sofa Cleaning
Camelback Sofa Cleaning
Two Seater Upholstery Cleaning
Corner Skirt Panel Cleaning
Polyester Upholstery Cleaning
Side Skirt Couch Cleaning
Microfiber Couch Cleaning
Three Seater Upholstery Cleaning
Couch Arm Cleaning
Linen Couch Cleaning
Cabriole Sofa Cleaning
Our Upholstery Cleaning Services Are Available In These Nearby Areas
Why Choose Karls Couch Cleaning Professional Team?
When it comes to upholstery and couch cleaning Rozelle service, you should choose our team for the following reasons:
Our team consists of trained and skilled professionals who provide the best quality cleaning service.
We use advanced techniques and methods to ensure a deep clean of your upholsteries, sofas, and couches.
All team members are certified under IICRC and other cleaning certifications, ensuring their professionalism and expertise.
We use high-powered steam cleaners for couches, sofas, and upholstered furniture to ensure a thorough deep cleaning.
About Rozelle
Situated in the Inner West of Sydney, New South Wales, Australia, Rozelle is a suburb located 4 kilometres to the west of the Sydney central business district. The local government area for Rozelle is the Inner West Council.
Postcode: 2039
Latitude: -33.8644971
Longitude: 151.1743003
Lounge Cleaning Rozelle
Call Us On 02 4058 2562 Same Day Lounge Cleaning
Location: Rozelle, NSW 2039, Australia