Revive Your Couch With Professional Couch Cleaning Services in Camperdown
Are you tired of your stained and dusty couch? Let us take care of it for you. At Karls Couch Cleaning, we are experts in restoring and cleaning upholstery. Our Couch Cleaning Camperdown team can handle delicate and soft materials with ease, making your couch look refreshed and brand new. Contact us today at 02 4058 2562 to schedule an appointment and experience our excellent couch cleaning services in Camperdown.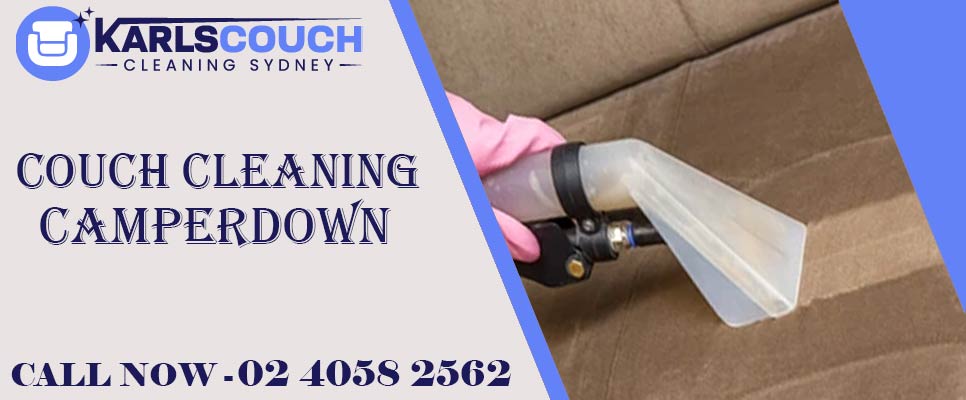 Comprehensive Couch Cleaning Services in Camperdown
Are you tired of your sofa looking old and filthy? Thankfully, there are different ways to get your sofas and couches cleaned in Camperdown. From couch steam cleaning to couch shampooing, the experts offer a wide range of cleaning services:
Using expert techniques and high-tech tools, steamers, and equipment, the professionals get the steam cleaning done ASAP. This service will not only clean but also make your couch healthier.
Stubborn stains can make your couch look worn out, but professionals can help you get rid of them with their couch stain removal service.
Experts use eco-friendly products to clean the surface of your couch, removing dirt, dust, bacteria, germs, mould, and other harmful components, deep cleaning your couch to its core.
Professionals offer couch odour and mould removal services, sanitizing and deodorizing the sofa to remove unpleasant odours and mould.
Couch Shampooing
Shampooing your sofa can be time-consuming and effortful. Therefore, let the experts handle it, and get the cleaning and shampooing task done more quickly and effectively.
This service provides a protective shield for your couch, preventing damage and mess up, and keeping your couch healthier in the long run.
Infused pet odours from your pet's love for sitting on the couch for hours can be removed by professionals using their specially designed chemicals and solutions.
Professionals will also effectively clean your lounge, which can be challenging to do at home.
Fabric & Leather Couch Cleaning
Whether it is fabric or leather, professionals offer perfect upholstery cleaning to make your couch look appealing and perfect again.
The professionals will do microfiber couch cleaning and microsuede couch cleaning, ensuring your couch is perfect in all ways.
Office Chair Cleaning
Cleaning many chairs can be a hassle, but you don't need to worry because professionals are perfect at dealing with this through the best quality Upholstery Steam Cleaning Camperdown.
Get the most out of your sofas and couches with the comprehensive sofa cleaning services in Camperdown.
Our Process for Professional Upholstery Cleaning
When it comes to professional Upholstery Cleaning Camperdown, our experts follow a specific process to ensure thorough cleaning. Here is an overview of our process:
First, our couch and sofa cleaning Camperdown team will inspect your upholstered furniture to determine the best cleaning solutions and methods needed based on its condition.
Once we have completed the inspection, we will use advanced cleaning techniques and solutions, including handheld steamers, to clean the upholstered furniture effectively.
Lastly, our Upholstery steam cleaning Camperdown team will do deodorization and sanitization to ensure that your furniture is healthy and hygienic.
Upholstery Cleaning Services In Camperdown And Nearby Areas
Benefits of Hiring Karls Couch Cleaning Professional Team
Choosing our upholstery steam cleaning Camperdown service comes with numerous benefits, including:
Trained and skilled professionals who guarantee the best quality cleaning service.
Use advanced cleaning techniques and methods for thorough cleaning of your upholstered furniture, sofas, and couches.
All our team members hold certifications from IICRC and other cleaning organizations, ensuring that they are professionals at what they do.
High-powered steam cleaners are capable of deep cleaning your couches, sofas, and upholstered furniture.
About Camperdown
Camperdown, a suburb located in the Inner West region of Sydney, New South Wales, Australia, is situated 4 kilometres to the southwest of the central business district of Sydney. It lies across the local government areas of the City of Sydney and Inner West Council.
Postcode: 2050
Latitude: -33.8886484
Longitude: 151.1831243
Couch Cleaning Camperdown
Call Us On 02 4058 2562 24×7 Couch Cleaning
Location: Camperdown, NSW 2050, Australia