How Much Does The Couch Cleaning Service Cost?
Couch cleaning service involves many services, which include several pieces of furniture like couches, armchairs, sofas, lounges, mattresses, and dining chairs as well. Every item mentioned here is covered with fabrics that require regular cleaning. Let's understand the fact, couches are majorly important nowadays. Whether it is binge-watching any serial or drama episode, having fun with loved ones, or eating dinner; Everything is good with the comfy and fairly designed couches and upholstery. Several people are wondering what you can expect to pay for Professional couch cleaning cost. Let's check in detail.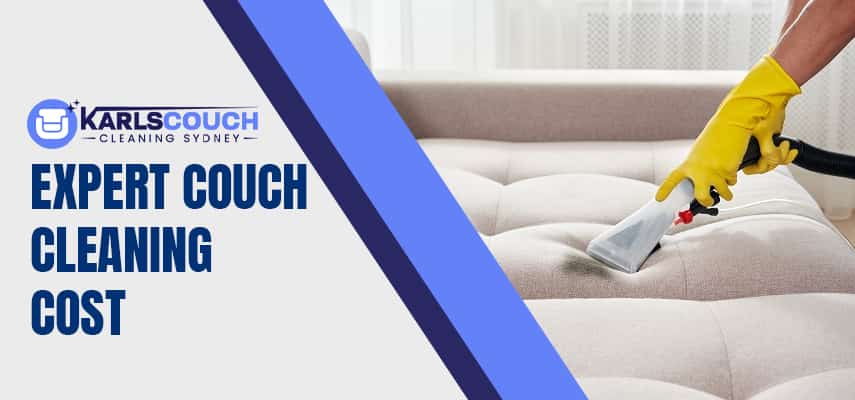 How Often Should I Get My Upholstery Cleaned By Professionals?
The best way to get the upholstery clean is to follow the hot water extraction method or steam cleaning method. These two are the best ways to get the upholstery, couch, and mattress thoroughly cleaned. However, this not only makes the upholstery look new again but also keeps it healthy, free from allergens and infections, free from bacteria, hygienic, and reduces wear and tear problems. Getting the upholstery cleaned by professionals means extending the life of your couch as well. If you will maintain the upholstery properly and also get this cleaned with professional assistance; then definitely it is going to make the couch look and feel completely refreshed and hygienic.
How Does The Upholstery or Couch Cleaning Cost Affect?
It is tough to state the actual price of upholstery or couch cleaning, but at the same time, you must know that several factors affect the upholstery or couch cleaning cost. We would like to inform you of the couch cleaning Sydney cost individually and separately according to several aspects, which needs to sum up accordingly. It is really helpful to know about general couch cleaning prices; the rest all depends upon several factors
Usually, we state the prices of couch or upholstery cleaning according to per seat. By per seat means; we calculate how many members can sit on the couch comfortably and that's how we decide per seat cost for couch cleaning.
If we talk about sofa or couch cleaning; it will take about $45 per seat.
Armchairs are also going to cost similarly. For the larger recliners and armchairs; this might take $50 per (approx.) seat.
Dining chairs will cost $15 (initiate cost). Rest depends upon the back and babe of the dining seat.
Mattress cleaning cost depends first according to the size of the mattress; it starts from $66 for a single bed, $77 for a double bed, $88 for a queen's bed, and $99 for a king's bed.
Well, the minimum charge we take is around $110 (approx).
Why Does Couch Cleaning Cost More Than Carpet Cleaning?
Countless people are confused and wanna know why upholstery cleaning is more than carpet cleaning. Undeniably, cleaning the carpets of different rooms is a much bigger task in comparison to a sofa or couch. The upholstery, sofa, or couch cleaning Sydney cost completely depends upon the time taken for the upholstery cleaning in the specific area.
Although, the carpet cleaning cost follows a similar process; which is included in the couch cleaning. But at the same time, the upholstery cleaning cost is a much bigger task than carpet cleaning, because it is more labour intensive in comparison to carpet ones.
Carpets are flats, which are easier to clean by vacuuming. On the other hand, professional couch cleaning costs more, because it involves other things to take care of like, corners, surface, depth, insides, etc.
Couch Stain Removal
If you will get done the couch steam cleaning, it is going to remove dirty and dusty and stubborn stains and marks from the couches though. Moreover, the colour stains like red wine, white wine, ink, juice, blood, and other; all these kinds of stubborn stains require much more than you have expected. It requires special stain removal techniques and solutions, which professionals can do very effectively. Stain removal in couch cleaning Sydney costs a bit much, but it has some special treatment plans for complete couch stain removal. 
Stains caused by the pet's urine can ruin the mattress and fabrics entirely because that is going to soak inside the upholstery in its depth. The expert couch cleaning service specialists have efficacious cleaning solutions and methods, which are going to extract the urine-hazardous compounds removed from the mattress and erase the stains from the fabric as well. Steam cleaning will easily penetrate the top layers of the couch and mattress and clean them appropriately. Make sure to get the professional couch cleaning treatment done; otherwise, this can harm the mattress and fabric very badly.
Protect Fabric Against The Stains
Scotchgard Fabric Couch Protection is another process, which helps to protect the fabric of your couch in the future. A protective chemical and solution will spread over the couch, which helps to protect the couch against liquid spill stains. The fabric protection chemical will not help to keep the stains resistant over upholstery or couch, but this is going to buy sometime before the stain soaks in the depth of your couch. You can rest ask the professionals about couch cleaning Sydney cost and other relatable things.
Do not forget that fabric protection has an additional charge ($30 approx.) per seat, and also the size of the furniture depends as well.