Contact the Best Team for Couch and Upholstery Cleaning in Cronulla
Are you searching for reliable and high-quality couch and upholstery cleaning services in Cronulla? Look no further than Karls Couch Cleaning. Our team is renowned for providing exceptional cleaning services that leave your furniture looking and smelling fresh. With our Upholstery Cleaning Cronulla services, you can trust that your couches and upholstery will be in safe hands. Don't hesitate to contact us today by calling 02 4058 2562.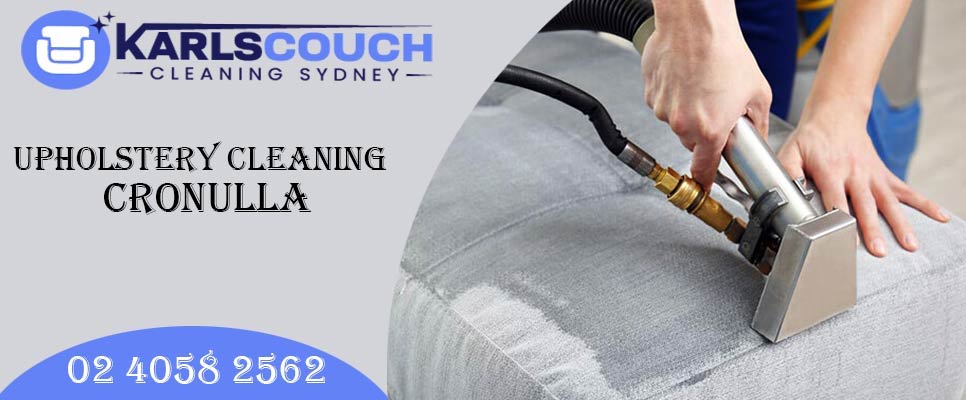 The Importance of Professional Couch and Upholstery Cleaning
Professional couch and upholstery cleaning have numerous benefits beyond just achieving a clean appearance. Here are some reasons why it's important to get your furniture professionally cleaned:
Prolongs the life of your furniture
Ensures your furniture is handled safely and properly
Provides deep cleaning to remove stubborn stains and dirt
Prevents the growth of mould
Improves indoor air quality by reducing particulate matter
Same-Day and Emergency Couch and Upholstery Cleaning Services in Cronulla
Cleaning your couches and upholstery can be a tedious task, but it's essential to maintain the cleanliness and hygiene of your home or office. Karls Couch Cleaning offers same-day and emergency furniture cleaning services throughout Cronulla. We are available to clean residential and commercial properties, and our team is prompt and efficient. Contact us today to schedule your cleaning service and enjoy the benefits of a clean and fresh-smelling home or office.
Our Rage Of Couch Cleaning Services In Cronulla
We offer a wide range of couch and upholstery cleaning services in Cronulla to meet the specific needs of our clients. Our team provides the following services:
Our couch steam cleaning service effectively removes dirt particles and microbes that cannot be eliminated through regular cleaning methods.
Stubborn and old stains can ruin the look of your couch, but our team can help you get rid of them using the best stain removal techniques.
For couches that are sensitive to water or steam, we offer couch dry cleaning services that make use of the right products to make them clean and dust-free.
Our couch odour and mould removal services eliminate foul odours and prevent the growth of mould, making your couch smell fresh and fragrant.
Couch Shampooing
Our expert couch shampooing services make your couches shine bright and get rid of all particulate matter, using the right detergents and shampooing agents.
Our Scotchgard protection service prevents accidental spills from staining your couches.
Our couch pet odour removal services eliminate pet odours and make it comfortable for you to use your couches.
Our team offers lounge cleaning services using the best cleaning agents to make your lounges squeaky clean.
Our team provides different cleaning methods for fabric and leather couches to make them immaculate.
For microfiber couches, we offer microfiber couch cleaning and microsuede couch cleaning services that are suitable for their specific needs.
Office Chair Cleaning
Our team also provides office chair cleaning services that take care of the cleaning requirements of your office chairs.
We Clean All Types Of Upholstery In Cronulla
We customize our couch sanitizing and deodorizing services to show visible results. Our highly versatile team can clean various types of couches and upholstery, including:
Side Skirt Couch Cleaning
Linen Couch Cleaning
Camelback Sofa Cleaning
Three Seater Upholstery Cleaning
Throw Pillow Sofa Cleaning
Polyester Upholstery Cleaning
Microfiber Couch Cleaning
Couch Arm Cleaning
Sectional Sofa Cleaning
Two Seater Upholstery Cleaning
Corner Skirt Panel Cleaning
Cabriole Sofa Cleaning
Ottoman Cleaning
Modern Upholstery Cleaning
Tuxedo Sofa Cleaning
Lounge Cleaning
Recliner Upholstery Cleaning
Chesterfield Sofa Cleaning
Leather Sofa Cleaning
White Leather Sofa Cleaning
Armchair Cleaning
Microsuede Sofa Cleaning
Lawson Upholstery Cleaning
Cotton Upholstery Cleaning
Contact us to enjoy the best experiences!
Our Quick And Reliable Couch Cleaning Process
At our upholstery and couch cleaning Cronulla service, we take a customized and strategic approach to achieve great results. Our process includes the following steps:
Inspection of Couches: We thoroughly inspect all couches and their upholstery to understand their condition and customize our services accordingly.
Pretreatment and Vacuuming: This step is crucial for effective cleaning as it helps to make our services efficient.
Use Suitable Cleaning Method: Our experts perform the most suitable and effective cleaning method after understanding the requirement.
Couch Protection Treatment: We offer a couch Scotchgard protection service to protect your couch.
Effective Drying: Using highly efficient dryers and dehumidifiers, we ensure that all water and moisture are removed, leaving your couches dry.
Final Inspection: Our experts conduct a final inspection to ensure that there are no remnants left on your couches.
Our Upholstery Cleaning Services Are Available In These Nearby Areas
Why Choose Our Couch Cleaning Services In Cronulla?
There are several reasons why our clients appreciate our upholstery and sofa cleaning Cronulla services:
Affordable Prices: We offer our services at affordable and decent prices.
Accessibility: Our team is easily accessible and can be hired with just a phone call.
Safe Services: All the services we offer are safe for you and your family members since they are non-toxic.
Latest Methods: We use the latest methods to make your couches and upholstery spotless.
Skilled Experts: All our experts are highly competent and skilled in all cleaning methods.
About Cronulla
Situated in the state of New South Wales, Australia, Cronulla is a suburb of Sydney renowned for its beautiful surf beaches and popular swimming spots, which draw in both tourists and locals from Greater Sydney. The suburb is situated 26 kilometres to the south of the Sydney central business district and is governed by the Sutherland Shire Council.
Postcode: 2230
Latitude: -34.0583162
Longitude: 151.1542049
Upholstery Cleaning Cronulla
Call Us On 02 4058 2562 24×7 Upholstery Cleaning
Location: Cronulla, NSW 2230, Australia