Say Goodbye to Dirty Couch With Our Reliable Cleaning Services in Redfern
Is your couch plagued with stubborn stains, dust, and mould? Worry no more because our experts at Karls Couch Cleaning can handle it for you. We offer different kinds of couch cleaning services, including steam cleaning, dry cleaning, odour removal, stain removal, and more. Our Couch Cleaning Redfern team will make sure your couch is thoroughly cleaned, leaving it healthier and hygienic. Contact us today at 02 4058 2562 to book an appointment and enjoy our reliable cleaning services in Redfern.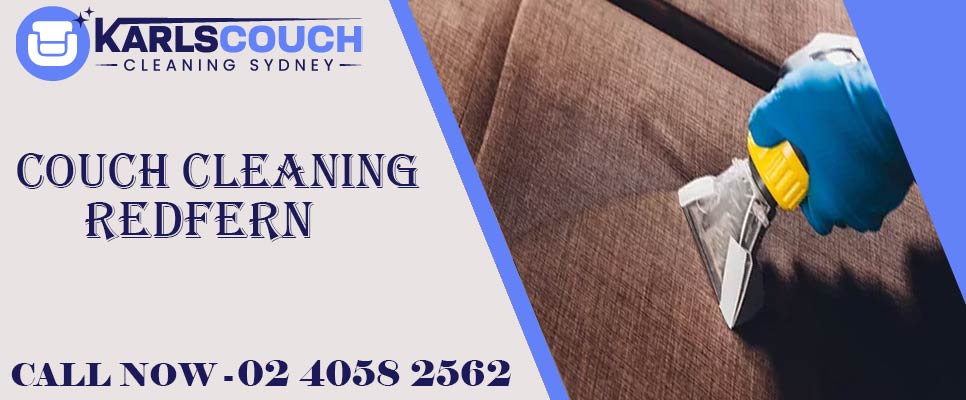 Top-notch Couch Cleaning Services in Redfern
Cleaning your sofas and couches can be a tedious task. Luckily, there are various ways to get cleaning services in Redfern. Here are some of the options:
Professionals use expert techniques and high-tech equipment to get the job done quickly. This service can even improve the health of your couch.
Stubborn stains can make your couch look old and dingy. Professional stain removal can restore the couch's appearance.
Eco-friendly chemicals and products are used to clean the couch's surface and remove dirt, dust, bacteria, germs, and mould.
Experts perform sanitization and deodorization processes to remove unpleasant odours and mould from your sofa.
Couch Shampooing
This task can be time-consuming, but professionals can do it more quickly and effectively.
Professionals offer a protective layer for your couch that keeps it healthier and prevents damage.
If your pet loves to sit on the couch, professionals can use special solutions and chemicals to eliminate pet odours.
Professionals can clean your lounge thoroughly, and they excel at cleaning it in tough-to-reach areas.
Fabric and Leather Couch Cleaning
Experts can do upholstery cleaning on all types of fabrics and leather, restoring the couch's appearance.
Professionals can clean microfiber and microsuede couches and restore their perfect appearance.
Office Chair Cleaning
Professionals can also help with the cleaning of your office chairs, ensuring that they look and smell fresh. Choose the best quality couch and sofa cleaning Redfern team to ensure the highest level of service.
Our Professional Upholstery Cleaning Process
To clean upholsteries professionally, our experts follow a certain process. Here's how we perform our professional Upholstery steam cleaning service in Redfern:
Our professionals start by inspecting your property to determine the condition of your couch. This pre-inspection helps us understand which cleaning formula, solutions, and methods will work best for your upholstery.
After the inspection, our experts use advanced cleaning solutions, methods, and handheld steamers to clean your upholsteries effectively.
In the end, our Upholstery steam cleaning Redfern team deodorizes and sanitizes your upholstery to keep it healthy and hygienic.
We Are Available In These Nearby Areas Also
Why Choose Karls Couch Cleaning Professional Team?
There are several reasons why our upholstery steam cleaning Redfern service is the best option for you:
Our upholstery cleaning Redfern team consists of trained and skilled professionals who ensure the best quality cleaning service.
We use advanced techniques and methods to clean your upholsteries, sofas, and couches.
All our team members are certified under IICRC and other cleaning certifications, ensuring they are professionals at what they do.
We have high-powered steam cleaners for deep cleaning your couches, sofas, and upholstered furniture.
About Redfern
Situated 3 kilometres to the south of the Sydney central business district, Redfern is an inner southern suburb of Sydney that falls under the local government area of the City of Sydney. Strawberry Hills, is a locality located on the border of Redfern and Surry Hills.
Postcode: 2016
Latitude: -33.8930941
Longitude: 151.2067974
Couch Cleaning Redfern
Call Us On 02 4058 2562 24×7 Couch Cleaning
Location: Redfern, NSW 2016, Australia