Professional Couch Steam Cleaners At Your Service
Couch steam cleaning is one of the best ways to keep your couch fresh and clean. We offer the best steam cleaning services, so you can choose which is right for you. Our service is also suitable for Couch Stain Removal to help remove stains from your couch that may have accumulated over time or have just happened. Our couch cleaning services are also perfect for those of you who have pets, or if you have kids that love to play on the couch.
So look no further than Karls Couch Cleaning. Our steam cleaners will clean your couch thoroughly, removing all of the harmful moulds and bacteria that may be present in your couch. Call us today to schedule an appointment!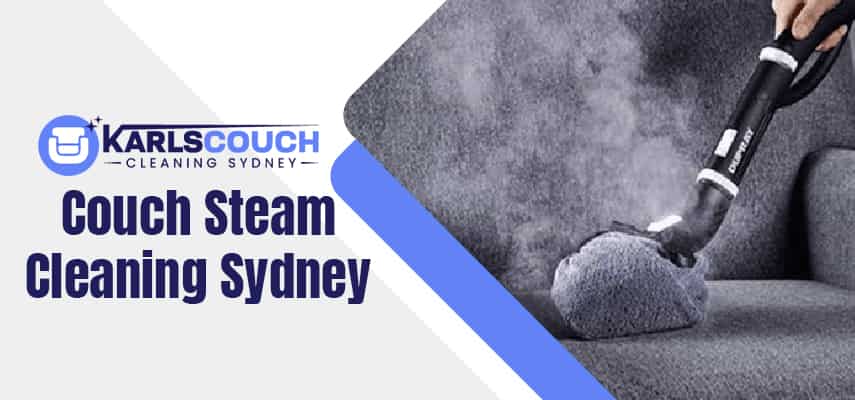 Benefits Of Hiring Professional Couch Cleaning Services
There are so many benefits to hiring Couch Steam Cleaning and Professional Couch Cleaning Service. So, here are some of them. 
The first benefit is that steam cleaning your couch will help remove dust and allergens from your couch. 
Professional steam cleaning also enhances the appearance of your couch.
It removes dirt and stains.
If you hire regular couch steam cleaning services, it helps to extend the lifespan of your couch.
Professional Couch Cleaning service also removes spills and animal hair from your couches.
Couch stains are a common problem and they tend to congregate on surfaces like couches. Steam cleaning can remove all stains. By removing the stains from these surfaces you can reduce the number of allergens in your home which will make it more healthy for you and those in your family who suffer from allergies or asthma.
We're the experts at removing stains and dirt from your couch with our excellent steam cleaning machines. Apart from Couch Steam Cleaning, we also offer other cleaning services and treatments for all types of couches.
Get The Most Popular Couch Cleaning Services With Your One Call Booking Process
Couch Stain Removal Are you sick of how oily and filthy your couch is? We can assist. No matter how deep the stains or odours are, our sofa stain cleaning service can remove them. Our couch cleaning experts will make sure you sit on a spotless and fragrant sofa that's prepared with our cleaning!
Couch Deodorisation Call us right away to get your couch deodorised. Our Couch Deodorization is an effective method for keeping your couch sanitary and secure. For your couch, we prepare our best cleaning solutions
Couch Stain Scotchgard Protection Service With our couch stain protection service, we help to remove germs and other impurities from your couch. Our service experts are available around-the-clock to clean your couch or sofa, and other upholstery items.
Couch Sanitisation We are the leading company with the best customer support in cleaning couches. We thoroughly clean, sanitise, and shield your sofa from all kinds of bacteria and germs. So, call us for an effective and reliable Couch Steam Cleaning or couch sanitisation service.
Couch Dry Cleaning For private clients, residential clients, and commercial premises, our team offers the best couch dry cleaning services. To guarantee that your couch is germ-free, we only use the finest materials. This is the fastest method to keep your couch fresh and clean.
The Effective Way To Get Rid of Dirt With Our Couch Steam Cleaning Method
Couch Steam Cleaning is the process of removing stains and dirt from a couch without putting much pressure on your carpet. 
The process starts by vacuuming up any loose dirt. A special vacuum attachment is then used to suck up any remaining dirt and dust particles. Next, we use a steam cleaning machine to deep clean your couch. Then, a brush or broom is used to sweep away any hair or other debris that may have been missed. Finally, an odour eliminator spray is applied to help remove any lingering smells left behind by pets or food spills.
So, If you are looking for a professional service that can remove couch stains and bacteria with a steam cleaning method, we are here for you. We can remove couch moulds, spores, and bacteria from your couch.
When Do People Hire Our Couch Steam Cleaning Services
No one likes a dirty couch. The best way to keep your couch clean is to call a professional couch cleaner. They can get rid of the dirt and stains that you can't see, and they know how to get your upholstery looking great again. Here is the info on when you should call professionals for couch cleaning.
Having a foul smell or merely looking at an uncleaned couch in your home.
You feel discomfort when you sit or unwind on the couch.
If you see any spills or stains on the couch.
When the appearance of your couch is deteriorating.
Call professionals to steam clean the couch if you find that it is unclean.
If you notice pet hair, mould, or other debris on the sofa.
Our experts will be able to clean any type of upholstery fabric, including leather, velour and microfiber. You can obtain professional couch cleaning services from us for all your needs.
Why Always Book Our Couch Cleaning Company?
Affordable services:
We will provide quality service at affordable rates, so you can feel confident that your furniture will be cleaned properly.
Variety of services:
Our services include Upholstery Steam Cleaning, Spot Cleaning, Couch odour treatment, Couch Steam Cleaning, Stain Removal & Spot Removal.
No hidden fees or charges:
We have a no-hidden-fee policy, so you know exactly what you're paying for.
Modernised cleaning
In our Professional cleaning services, we use a variety of techniques to remove dirt and grime from your furniture, including steam cleaning and dry foam extraction. Our all techniques are the latest and modernised.
No mess after cleaning
Once we've finished cleaning upholstery in your home and removed all of the dirt and debris from it once and for all, we'll make sure everything looks as good as new again before leaving.
Faq's
Which service is better, couch steam cleaning or dry cleaning?
We offer both types of cleaning services: one is a dry cleaning service that uses less water and a vacuum cleaner to clean your couch; the other is our couch steam cleaning service which uses hot water to steam away any mould or bacteria from your couch. It's all up to you what to choose, both are good.
Does cleaning really help to enhance the appearance of the couch?
Yes! Couches can get dirty over time and require professional cleaning services to maintain their appearance. You can call us for Couch Steam Cleaning service.
 Is vacuuming helpful to keep the couch clean and neat?
Vacuuming on a regular basis will help to protect your couch from dirt and dust. Hire professionals, they will vacuum the couch for you, which is an important step in getting rid of dirt and dust that might be hiding in the upholstery's creases.