Upholstery Pet Odour Removal Services At Affordable Prices
If you have a pet, then you know that they are cute and adorable. However, there are times when they do not smell good. This happens because of the bacteria in their fur that emits a certain odour as they age and grow old. Moreover, pets can pee or poo on the couch. In order to remove this smell from your couch or upholstery, you can get professional help from experts at Karls Couch Cleaning. Our experts specialize in removing pet odour from all types of fabric including leather couches and sectionals. For any query about Pet Odour Removal, contact us.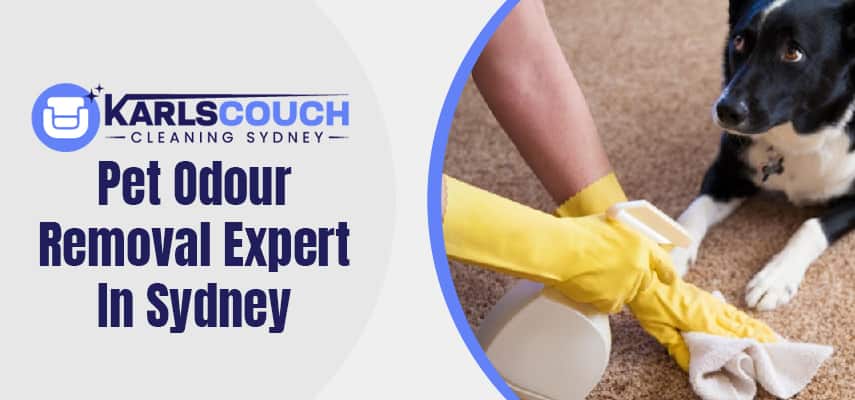 Our Best Services For Pet Odour Removal
We are professionals in the field of pet odour removal and couch cleaning. Our couch pet odour removal service is guaranteed to get rid of any unwanted stains, smells or marks on your furniture. We use advanced technology to remove all types of stains from your couch so that you can enjoy it for a long time!
Couch Pet Odour Removal Service

Our experts give the best services in removing pet odour from all types of couches. We gently clean the couch and make sure that there is no damage issue while cleaning your couch.

Professional Couch Cleaning Services

Our general professional couch cleaning service is amazing as it gives deep cleaning results to the customers. We are always ready to serve you with the best of our services and make your upholstery pet-odour free.

Couch Steam Cleaning

We clean your couch with a steaming procedure and we will be happy to help you out with your couch cleaning needs. Couch steam cleaning is used to protect your couch from dirt, pet odour and other stain issues.

Couch Dry Cleaning

We professionally dry clean all types of couches and upholstery items and we give a better result when we dry clean as we use only eco-friendly cleaning solvents to complete the process. So, simply call us for Pet Odour Removal services.

Couch Pet Stain Treatment
If you want to get couch pet stain treatments, you can directly call us at any time. We will be answerable for resolving your queries regarding the cleaning process and Pet Odour Removal Services.
Benefits Of Hiring A Professional Couch Pet Odour Removal Service
Fresh Look of your couch: Having a professional upholstery pet odour removal service is the best way to ensure that your furniture remains clean and fresh-looking for years to come.
Trained professionals with equipment: A trained professional will have access to equipment and chemicals not available at home, so you can relax knowing that your sofa or couch will be in tip-top shape after they've finished working on it.
Fast cleaning: It is possible that you may take time to clean your sofa or couch for removing pet odour but experts work fastly.
Guaranteed results with services: You can get guaranteed workmanship.
Specialization: Professionals have been trained extensively and specialize in treating such issues on a daily basis so there's no need to worry about anything related to couch pet odour removal.
Longevity: A simple fact that you can use your couch for a long time as professional cleaning helps to enhance the longevity of your couch.
No mess at all: Professionals will not leave a mess after cleaning the couch for Pet Odour Removal.
Our Upholstery Pet Odour Removal Process
Our professional couch cleaners are highly trained and experienced in removing pet odours from couches. Our cleaning services are available at affordable rates, making it easy for you to get rid of the problem in no time.
Step One: We will start by vacuuming the couch and then we will use an attachment for professional vacuuming.
Step Two: Then, our team prepares and applies a professional-grade pet odour removal solution to neutralize the smell.
Step Three: We will also apply a deodorizer to the couch and leave it for a few hours so that it can dry, which will result in removing odour from furniture caused by pets.
Step Four: We will clean the couch and inspect it thoroughly to ensure that there are no stains or odour left behind caused by pets.
Step Five: We will do a final inspection of the couch to ensure that it is completely clean, and if there are any issues, we will address them immediately.
The Signs When You Need To Hire Professional Couch Cleaning
When you notice any bad smell occurring around the couch.
Or, if you see any pet stain on the couch.
If you have a couch that is always dirty, and it's not possible to clean it on your own, then it's time to hire a professional service.
Also, hiring expert couch cleaners is okay when you see any pet fur that can not be removed by you.
If you want to save time and money, hire experts who will do the work for you. They'll also provide the best results in terms of removing odours from any type of upholstery or fabric in your home.
So, what are you waiting for? Get in touch with us today to learn more about our upholstery cleaning and couch pet odour removal services. We'll be happy to provide you with a free quote, services and answer any questions you may have.
Why Karls Couch Cleaning Is the Best Option When You Need Pet Odour Removal
There are many reasons why people prefer us to get services.
We are a family-owned business.
We offer our services throughout Sydney, so you can rest assured that we will be able to reach your home quickly and efficiently.
We have an efficient solution for getting rid of any unwanted smells caused by pets with over 25 years of experience in the industry.
We use eco-friendly cleaning products that are safe for your health and the environment, which makes it better for you as well as our customers.
We offer same-day couch pet odour removal services so you don't have to wait too long before having your couch cleaned again!
Our prices are affordable.
If you want to get more information about the upholstery cleaning services we offer, then contact us today. We look forward to hearing from you!
FAQs
Q. Do you leave the couch for drying or do you use equipment to dry it?
We will leave the couch to dry for a few hours. For your concern, we can also use a drying machine so that your couch can be used immediately. 
Q. Do you have a license to run a couch cleaning business?
Yes, we are a fully licensed team. So, if you have a question or want to know more about our couch pet odour removal service, please contact us. 
Q. How to keep a clean couch with a pet?
Simply, use a vacuum cleaner on a regular basis. It will reduce the chances of getting stains and dirt. Furthermore, treat stains immediately when it occurs.