Contact the Best Couch And Upholstery Cleaning Team in Castle Hill
Are you searching for the best couch and couch cleaning services in Castle Hill? Look no further than Karls Couch Cleaning! Our team is rated as the best in the area for providing top-quality services to ensure that your couches and upholstery remain clean. Our Couch Cleaning Castle Hill services are reliable, making us the best choice for your couch and upholstery cleaning needs. Don't wait any longer, contact us now at 02 4058 2562 to get our services today.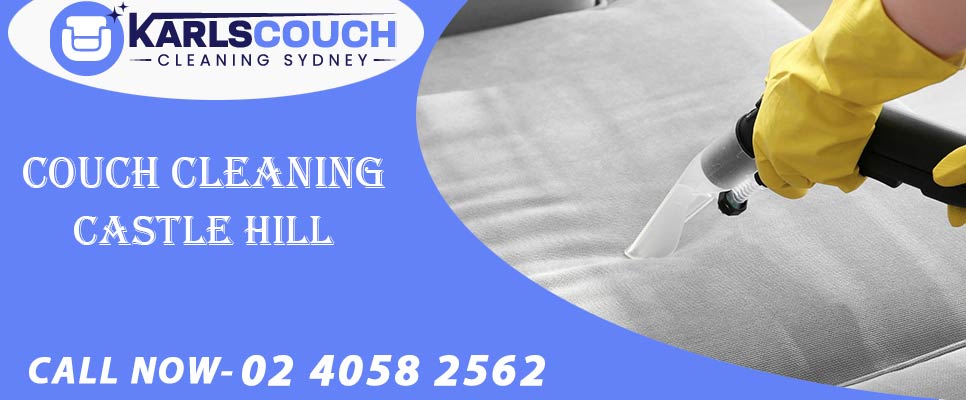 The Importance of Professional Couch Cleaning
Professional couch and upholstery cleaning offer more than just superior cleaning results. There are numerous other benefits, including:
Prolonging the lifespan of your couches and upholstery
Safe and expert handling of your furniture during the cleaning process
Deep cleaning that effectively removes stubborn stains and enhances the overall appearance
Preventing the growth of mould and improving indoor air quality by reducing particulate matter
Same-Day and Emergency Couch And Upholstery Cleaning Services
Cleaning your couches and upholstery can be exhausting if done on your own. Why not trust our professionals for prompt services? Karls Couch Cleaning Sydney offers same-day couch and upholstery cleaning services across all regions in Castle Hill, whether it's a residential or commercial property. Our same-day services can be booked within 24 hours, and we also offer emergency services for urgent situations. Contact us now for hassle-free upholstery cleaning services in Castle Hill!
Various Couch Cleaning Services That We Offer!
At our company, we provide a range of professional couch and upholstery cleaning services in Castle Hill to meet the unique needs of our clients. Below are the services we offer:
Couch Steam Cleaning
Regular cleaning methods may not effectively remove all dirt particles and microbes from your couch. To get great results, consider our couch steam cleaning services. Contact us today to learn more.
Couch Stain Removal
Stubborn and old stains can be unsightly and ruin the look of your couch. Our couch stain removal team uses the best techniques to remove even the toughest stains and restore your couch's aesthetics.
Couch Dry Cleaning
If your couch is sensitive to water or steam, couch dry cleaning may be the best option. Our expert team uses the right products to clean your couch and eliminate dust and other debris.
Couch Odour and Mould Removal
Unpleasant odours and mould growth can make your couch uncomfortable to use. Our team offers couch odour and mould removal services to help restore freshness and prevent future growth.
Couch Shampooing
Shampooing is a great way to give your couch a deep clean and remove particulate matter. Our professional couch shampooing services use the right detergents and agents to make your couch look magnificent.
Couch Scotchgard Protection
Scotchgard protection can help prevent your couch from getting stained by accidental spills. Contact us to learn more about our Couch Scotchgard Protection services.
Couch Pet Odour Removal
Pet odours and fur can be common issues for pet owners. Our experts provide couch pet odour removal services to eliminate odours and make your couch comfortable to use again.
Lounge Cleaning Service
In addition to couches, we also offer lounge cleaning services. Our team uses the best cleaning agents to make your lounges squeaky clean.
Fabric and Leather Couch Cleaning
Different types of couches require different cleaning methods. We offer fabric couch cleaning and leather couch cleaning to ensure that your couches are immaculate and well-maintained.
Microfiber Couch Cleaning
If your couch is made of microfiber, our microfiber couch cleaning and microsuede couch cleaning services can effectively clean and restore it to its original condition.
Office Chair Cleaning
Cleaning office chairs can be challenging, but our team is up to the task. We take great care to ensure that your office chairs look their best.
All Types Of Couch We Clean In Castle Hill
Our highly versatile team can clean various types of couches and upholstery. We customize our couch sanitising and deodorising services to show visible results.
Microfiber Couches
Leather Couches
Office Chairs
Seat Cushions
Couch Arms
Recliners
Back Pillows
Top Cushions
Three-Seater Couches
Corner Skirt Panels
Side Skirt Couches
Inside Arms
Our Couch Cleaning Process In Castle Hill
If you want your couches and upholstery to be thoroughly cleaned, then you need to approach the task strategically. That's why our couch and upholstery cleaning Castle Hill services are designed to be customized and effective. Here's how we do it:
Inspection of Couches: We carefully inspect all the couches and their upholstery to determine their condition and customize our services accordingly.
Pretreatment and Vacuuming: To make our services more efficient and effective, we start with pretreatment and vacuuming.
Suitable Cleaning Method: Once we understand the requirements, our experts will use the cleaning method that is best suited for your couch and upholstery.
Couch Protection Treatment: To protect your couch and upholstery, we recommend getting a couch Scotchgard protection service.
Effective Drying: We use high-quality dryers and dehumidifiers to remove all the water and moisture from your couches and make them completely dry.
Final Inspection: Our experts perform a final inspection to ensure that no remnants are left on your couches.
Widely Available Couch Cleaning Services in Castle Hill
Our upholstery and couch cleaning services are available throughout:
So, if you're a Castle Hill resident, give us a call to make an appointment and get your couches looking like new.
Why Choose Us for Couch and Upholstery Cleaning in Castle Hill?
If you're wondering why you should choose our couch and sofa cleaning Castle Hill services, here are a few reasons:
Affordable Prices: We offer our services at affordable and decent prices.
Easy Access: Our team is easily accessible, and you can get our services just by making a phone call.
Safe Services: All the services we offer are safe for you and your family members since they are non-toxic.
Latest Methods: We use the latest methods to make your couches and upholstery spotless.
Competent Experts: All our experts are highly competent and skilled in cleaning methods.
About Castle Hill
Castle Hill is a suburban area situated in the Hills District region of Sydney, New South Wales, Australia. It is positioned 34 kilometres northwest of the central business district of Sydney and 9.5 kilometres to the north of Parramatta. The suburb is split between the local government areas of The Hills Shire and Hornsby Shire.
Postcode: 2154
Latitude: -33.7302121
Longitude: 150.9976784
Couch Cleaning Castle Hill
Call Us On 02 4058 2562 24×7 Couch Cleaning
Location: Castle Hill, NSW 2154, Australia