Best Fabric Couch Cleaning Service In Australia
Karls Couch Cleaning is a professional company in Sydney. We offer the best quality fabric couch cleaning services. We have been working in this industry for many years and we are known for our high-quality work.
Our company has a team of professionals who are experts in the field of couch cleaning and they will provide you with the best Fabric Couch Cleaning service that you need at an affordable price. We do not use any harmful chemicals on your couches, so there is no risk of damage to your couch or to your health as well. So, call us right now if you are looking for Fabric Couch Cleaning service.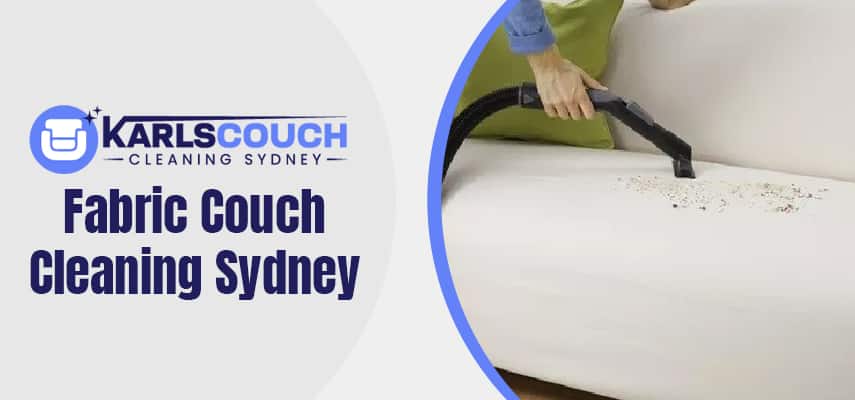 Advantages Of Having Professional Fabric Couch Cleaning
Professional cleaning is the best way to keep your fabric-upholstered furniture looking good. It can be expensive to replace the furniture that has been in the family for generations, so it is worth every penny to get professional couch cleaning done regularly.
By hiring Professional upholstery cleaning, you get your couch cleaned with the necessary equipment and skills.
Professional cleaners use a dry cleaning process which is the best way to clean delicate fabrics like velvet. So, professional cleaning is safe for you.
Upholstery Cleaners have experience in removing stains from different types of material. So, there will be no worry for you because experts can remove different kinds of stains.
Experts are also able to give you the right upholstery inspection services. It will give you the benefit that you can access the exact information about upholstery.
The major advantage you can get from Professional Fabric Couch Cleaning is getting back your upholstery with a fresh look. This will definitely enhance the appearance of your couch.
It also extends the lifespan of your lovely upholstery; so that – you can use your upholstery for a long time.
Our Effective and Professional Services For Cleaning Your Fabric Couch
A clean home is a happy home. A dirty sofa and chairs are not welcoming or comfortable for guests or family members. So, our company offers you the most reliable Fabric Couch Cleaning services for your home.
Fabric Couch Steam Cleaning

Karls Couch Cleaning is a company that offers professional couch steam cleaning services. In the steam cleaning procedure, we use effective steam cleaners to give a deep cleaning effect.

Fabric Couch Odour Treatment

Our Professional Upholstery Cleaners know how to remove odours from furniture that has been sitting for a long time or has been exposed to pets or cigarette smoke. So, call us now for the best results.

Couch Pet Hair Removal

Our Professional upholstery cleaners are also able to remove pet hair with their powerful vacuums. We use the vacuuming method and the latest equipment for removing the pet fur or pet hairs from the couch.

Fabric Couch Stain Removal

Our expert upholstery cleaners remove spills with their special solutions. With our advanced equipment and well-trained staff, we can provide you with a high-quality couch stain cleaning service.

Couch Dry Cleaning

In our Fabric Couch Cleaning list, we offer professional couch dry cleaning services for homes and offices. We also offer dry foam couch cleanings, which are great for people who have allergies or asthma.

Couch Mould Treatment
To get rid of the mould from your couch, hire our professionals. We use vinegar-based cleaning solutions for cleaning the couch mould. So, hurry up to hire our experts if you are dealing with a moulded couch in your home.
Our upholstery cleaning specialists can clean all kinds of fabric and materials like leather, suede, wool, cotton, linen, silk and acrylic. So, hire our experts for Fabric Couch Cleaningservices.
The Effective Process For Fabric Couch Cleaning
We offer our customers a range of services, including steam cleaning, dry foam cleaning and upholstery cleaning. We also offer fabric protection and stain removal services. And, here is the process of our Fabric Couch Cleaning service.
We vacuum the couch, removing all dirt and dust from the upholstery.
We use a damp cloth to wipe down the surface of the couch and remove excess stains from the fabric couch.
Then, our company's experts prepare a perfect cleaning solution according to your upholstery requirements.
We do couch steam cleaning or dry cleaning processes as per the customer's demand for cleaning. We specified a cleaning solution and scrubbed the couch to deep clean it.
Then, we rinse the couch with warm water or normal water.
At last, our team drys the couch with a towel or dryer sheet on low heat. For fast drying, we also use speedy fans.
After completing the procedure, we give Upholstery Stain Protection Service if needed by the customer.
The entire process will give you a fresh look for your upholstery or fabric couch.
The Indicative Signs That You Need To Hire Experts For Couch Cleaning
Fabric Couch Cleaning is a difficult and time-consuming task. If you are not experienced in this type of work, it is better to hire experts for couch cleaning. To know whether you need professional help or not, here are some signs that indicate that you should hire experts for Fabric Couch Cleaning.
You have pets and the couch needs to be washed regularly.
You have kids who play on the couch and it needs frequent cleaning because of spills or stains.
The smell of your couch bothers you because of all the dirt and dust accumulated over time.
You notice when your upholstery is faded with a dull colour.
If you feel discomfort on your upholstery because of dirty stains or bugs around it.
Why People Prefer Karls Couch Cleaning To Get Services
At Karls Couch Cleaning, we offer a fully professional service that is tailored to the needs of the customer.
Free quotes and quotations: We can provide you with a quotation for your cleaning requirements, this will be based on an in-depth inspection.
Authorised company: We are fully insured and we are leading an authorized company.
Experience: We have over 25 years of experience in the industry and we pride ourselves on our high standards of workmanship.
Affordable price: We offer a variety of service packages to suit your needs. Our prices are unbeatable as well because we keep our couch cleaning costs reasonable.
Quality service: We are the best in the industry and we have a proven track record of providing quality services. We are also diligent, reliable, and punctual.
Always available: Our team for Fabric Couch Cleaning is 24/7 hours available for cleaning your couch and other upholstery items.
Cleaning services are necessary to keep your home and office clean. We can provide you with all kinds of upholstery cleaning services. Contact us now for a free estimate!
FAQs
Q. How can I maintain my couch fresh and clean?
Although the cleaning is challenging, you can still prevail if you take the following actions: Vacuum at least once every other day. Treat the couch with the stain immediately. Lint rollers should be used if you have pets. Keep a stain shield close by. Regularly fluff your cushions. Put a slipcover to protect it.
Q. Do you clean upholstery in a nearby city in Sydney?
Our professional upholstery Sydney cleaners are always available across the city as well as in nearby places. So, call now if you need Fabric Couch Cleaning in Sydney or nearby areas.
Q. How much time does it take to have a fabric couch properly cleaned?
The method our professional uses is best and takes less time to clean but sometimes it depends on the cleaning method and fabric type. Still, you can get a typical idea of the upholstery cleaning process, it takes between 30 and 60 minutes, or even longer in rare circumstances.