Company For The Best Couch Deodoriser And Sanitisation
Karls Couch Cleaning is here for you. We provide professional couch cleaning services at affordable prices. We are available for all types of couch sanitisation, deodoriser and other related services. Our professional service providers will be available at your convenient time. So, there is no worry to deal with dirty couch issues. Simply call us to hire services for Couch Cleaning.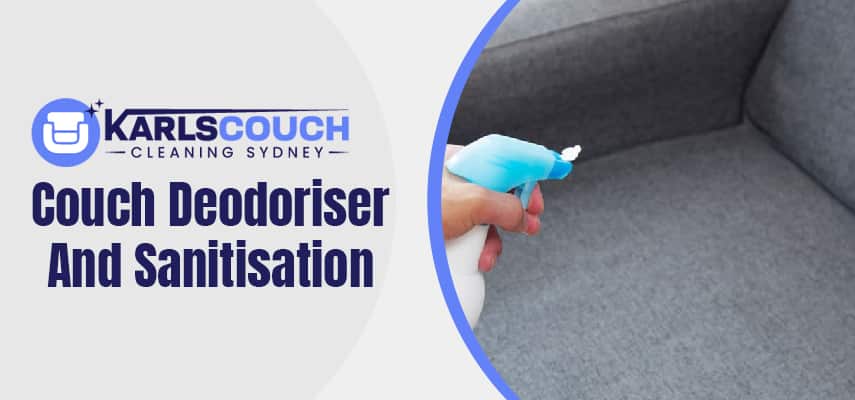 Expert Couch Deodoriser And Sanitisation – Get all Benefits Here
The most common advantages of having expert couch deodoriser and sanitisation are:
Couch deodoriser and sanitisation can remove all types of smells, bacteria and other microorganisms from the couch.
It can also kill the bugs that might be living inside your couch.
Expert couch deodoriser and sanitisation will make sure that your furniture looks good as new.
It can also prevent any type of stains from forming on your furniture.
Couch Deodoriser, Sanitisation Services and Many More: Call Us
Fabric Couch Steam Cleaning

We provide expert couch steam cleaning services by using the latest techniques and cleaning methods. We employ powerful steam cleaners throughout the steam cleaning process to produce the best result.

Fabric Couch Odour Treatment

Our professional service providers for fabric couch odour removal are experts to deal with different couches, smells and germs. We use powerful cleaning solvents and products to remove the bad odour from the couch.

Couch Pet Hair Removal

If you want to get your couch professionally cleaned with pet hair removal treatment, call us. We will be a more beneficial option than anything else. So, get to us for a professional couch pet hair removal service.

Fabric Couch Stain Removal

Expert upholstery cleaners at our company are capable of removing couch spills or stains. With our high-quality couch stain removal service, you can use your couch for a long time.

Couch Dry Cleaning

To give you the most reliable service of Fabric Couch Cleaning, we give several options for couch cleaning. And, couch dry cleaning is one of them. So, contact us now and get your couch expertly cleaned with the best strategies.

Couch Mould Treatment
Mould on the couch is very problematic and we remove them professionally. So, call us to get the service now. We are trained and certified Couch Cleaners to do the task.
We clean leather, suede, wool, cotton, linen, silk, acrylic and so many types of couches. So, hire our experts for Couch Deodoriser And Sanitisation or Couch Cleaning.
Our Efficient Process of Couch Deodoriser And Sanitisation
At Karls Couch Cleaning, we take pride in our cleaning and sanitising methods. We understand that not every couch is the same so we use a unique process for each one. We are experts in couch sanitisation and deodoriser. We have a process that we follow to ensure your couch is completely sanitized and deodorized.
1) Firstly, we inspect the couch to see if it is upholstered or leather.
2) If it's upholstered, we vacuum all the visible dirt and debris from the couch first.
3) Then, we use a powerful steam cleaner to wet clean the entire surface of the sofa using a special cleaning solution that kills 99% of bacteria and viruses.
4) After cleaning, we use Sanitisation powder to complete the sanitizing process. We also use Anti-allergen spray to protect your couch from unnecessary stains.
5) Finally, we dry clean the sofa with an allergy-free cleaning solution that leaves it smelling fresh and looking like new.
The Basic Signs That Show You Need Couch Cleaning Or Sanitisation!
Some people might not know that there are some common signs that indicate that it is time to get a couch cleaning. It is important to take care of couches because they are the most expensive piece of furniture in the house and they need to be cleaned on a regular basis.
When you notice an unbearable smell coming from the upholstery.
Or, when your couch has stains, hire an expert for stain removal and couch sanitisation.
You need to get expert help when you see that your couch is losing its original look.
Couch sanitising is also necessary when dirt starts to build and affects the air quality.
You can also hire our professionals when you notice pet stains or visible dullness on the couch.
A lot of people don't know the usual signs indicating that they should get expert couch cleaning now. But you know now very well. So, hire us if you consider Expert Couch Cleaning necessary.
Why Choose Karls Couch Cleaning?
It is important for couches to be cleaned on a regular basis or else they will start looking old and dirty. Karls Couch Cleaning provides a wide range of services that include upholstery steam cleaning, upholstery dry cleaning and more. There are many reasons why you should hire us.
We are a leading company that offers professional couch cleaning services throughout the Sydney metropolitan area.
Our couch cleaners are the best because they are expert cleaners who are fully trained and they use only eco-friendly products.
Our professional cleaning company offers a wide range of services for different couches.
We have been in the industry for over 25 years and we are always looking to provide the best Couch Deodoriser And Sanitisation service possible.
We are committed to providing our customers with high-quality services and we offer competitive prices, so you can be sure that you're getting services worth your money.
The company has an A+ rating.
We also offer free quotes for all of our services, so you can get in touch with us today!
FAQs
Q. Can I get a discount on the service?
Yes! We offer competitive rates on services, give discounts on first booking and we can also provide you with a free quote on any service that you need from us.
Q. How to use vinegar solution for couch cleaning, deodorisation and sanitisation?
Simply, combine the vinegar solution with water and add some drops of liquid cleanser. Apply this solution to the stained area and rinse after ten to fifteen minutes. 
Q. Can you offer couch deodorisation in the nearby areas of Sydney?
Yes, our staff for couch sanitisation and deodorisation is 24/7 hours available for providing services and providing services across Sydney as well as nearby places.