Best Couch Stain Removal Solution In Australia
If you need your couch cleaned and freshened up with Couch Stain Removal Service, we can help. We're experts at removing stains, cleaning upholstery, and making your couch look amazing again. Our
local couch cleaners
of
Karls Couch Cleaning
 will come to your home or work office and professionally clean your sofas or sectionals with a steam cleaner. We also offer dry cleaning services for any spot that looks like it needs a little bit of extra attention.
Couch Stain Removal and Couch Cleaning services are the best way to get rid of mould, mildew, and stains on your couch. Our professional cleaners will remove any stain in a short amount of time, so you don't have to worry about replacing your couch. So, call us immediately to get the best offers on our Couch Cleaningservices.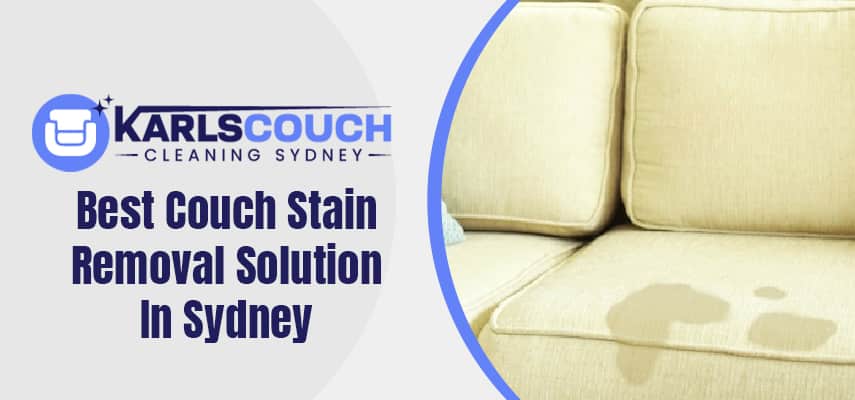 Know All Your Benefit Of Our Professional Stain Removal Service
Enhance The Appearance Of Your Couch
Couch cleaning services help you to maintain your couch's original appearance and protect it from damage. If you have pets, you know how hard it is to remove stains and odours. With couch cleaning services, you can easily clean your pet's urine or vomit off the couch without having to spend hours scrubbing and scrubbing.
Remove Dirt From Your Couch
Whether you are using your couch or not, it accumulates dirt over time which makes it look unattractive. Our professional couch steam cleaners will come in and remove all the dirt from your couch so that it looks like new again.
Protect Your Couch From Damage Caused By Spills Or Accidents
We understand how important your couch is to you so we will always try our best to ensure that nothing happens to it while we work on it.
Extend the Lifespan of Your Couch
By hiring our professional Couch Steam Cleaning Services, you can extend the lifespan of your couch. We also use special tools that help us to remove any stains that might be there as well.
Purifies Air Quality
Our
Expert Couch Stain Removal
services will also purify the air quality. You just need to call for a visit and we will do everything for you. So, be quick to call us for
Couch Steam Cleaning
service if you want to realise these benefits on your couch.
Our Services For Making Your Couch New!
There are so many services that we offer with
Couch Stain Removal.
Some of them are given below.
Couch Dry CleaningOur couch cleaning service is ideal for those who want to keep their couches in tip-top shape without having to spend a ton of time and money on them. The best part about our service is that we can do it for you.
Couch DeodorisationWe're offering couch deodorisation services that can get your couch looking like new again. We know that having a clean couch can make a huge difference in the way your home looks and feels, so we take our time with each piece of furniture and make sure it's spotless while deodorising or cleaning your couch.
Scotchgard Couch Protection TreatmentDusting any surfaces where dirt may have collected. You've got a couch that needs sanitisation and Scotchgard Couch Protection Treatment. We can help you with that. Get the service that's right for you today!
Couch Steam CleaningWe can clean all the couch stains while steam cleaning. We use environmentally friendly cleaners and our method is safe for children, pets, and humans. Call us to get Couch Steam Cleaningservice.
Couch Sanitisation We have more than 20 years of experience in the industry and are proud to provide our Couch Sanitisation services. We can provide all of your cleaning needs with our professional, reliable cleaning services and have a wide range of options from which to choose.
Couch Stain Removal Method Step By Step
Couch stain removal
is an important thing to do because it helps your couch look good and it also prevents the stains from spreading. Here is the process of
Couch Stain Removal
that we follow for making your couch stain-free.
First, we remove as much of the excess liquid as possible with a dry towel or paper towel.
Then, we sprinkle baking soda on the stain and let it sit for about 30 minutes. The baking soda will help break down the stain even more. Also, we use vinegar solution for stubborn stain removal from the couch.
After 30 minutes, we use a vacuum cleaner to remove all of the baking soda and vacuum any remaining dirt particles.
We use a solution of dish soap, water, and lemon juice or vinegar to clean the area with a cloth or sponge.
Then, we rinse off with water and then pat dry with a clean cloth to give you a better result.
When You Should Call Professionals For Couch Stain Removal Services
Couch cleaning
or
Couch Stain Removal
is a tedious task that needs to be done regularly. There are many signs that indicate the need for couch cleaning and stain removal. These signs include stains, spills, pet hair and many more. Here are some of the most common signs that your couch needs to be cleaned.
Stains: Blood, wine, and coffee stains can be difficult to remove with just soap and water. It's best to call in professional cleaners as they have the tools and knowledge of how to get rid of these stains.
Spills: Spills such as soda or other drinks can leave a sticky residue on the fabric of the couch which will attract dust and pet hair.
Pet hair: Pets shed hair all year round which means you need to vacuum your couch more often. One sign that your couch may need a deep cleaning is if it has a lot of pet hair and stains on it.
Dull appearance: If you notice that your couch is starting to look dingy because of stains, it might be time to call in a professional cleaning service.
Why Call Professionals From Karls Couch Cleaning?
When you need quality upholstery cleaning services, choose
Karls Couch Cleaning
company. Our team of trained professionals will handle all of your upholstery cleaning needs—from basic steam cleaning to more complicated treatments like sanitizing and stain removal—and we will do it right the first time.
We offer same-day service if you need an emergency couch stain removal done.
We're a local company, so you don't have to hire an expensive out-of-state company.
Our prices are low because we have no overhead or employees, so we can offer you a great price.
We're a local company with 20 years of experience in the industry, and we care about our customers when they call us for Couch Stain Removal
We're insured, bonded, and licensed.
We guarantee our work, so if you aren't happy with it, we will come back and fix it for free.
We use specialized equipment that's designed to clean upholstery in the best way possible, without damaging the fabric or other furnishings in your home.
We work hard to make sure our customers are treated well and feel comfortable with the services they receive, so it's important that we have a relationship with our clients. So, contact us for customer-friendly staff who can work for you on the bookings of
Couch Stain Removal
FAQs
Q. My upholstery is becoming soiled much more rapidly. Can you tell me why this is taking place?
The majority of cleaning techniques are harsh and leave behind chemicals or cleaning agents that naturally attract filth. You must avoid such cleaners. We clean your upholstered furniture using the most up-to-date equipment, rinsing and extracting the dirt and debris repeatedly until they are completely removed.
Q. Are you available for commercial couch cleaning in Sydney?
Yes, our team of Karls Couch Cleaning offer both commercial and residential couch cleaning services in Sydney.
Q. Which cleaning technique do you suggest?
For better cleaning results, hot water extraction is advised by the majority of upholstery manufacturers. With our hot water extraction procedure, we make sure to clean all the difficult-to-reach corners and edges. Or, you can hire Couch Steam Cleaning or dry cleaning from our company.