Keep Your Couch Fresh With Our Professional Cleaning Services in Rose Bay
Do you want to keep your upholstery looking brand new? At Karls Couch Cleaning, we offer high-quality couch cleaning services in Rose Bay. Our Couch Cleaning Rose Bay team will inspect your property, understand the damage or problem, and choose the appropriate in-depth cleaning treatment. We use effective cleaning solutions, techniques, and equipment to ensure that your couch is cleaned through its depth. Contact us today at 02 4058 2562 to book an appointment and experience our professional couch cleaning services.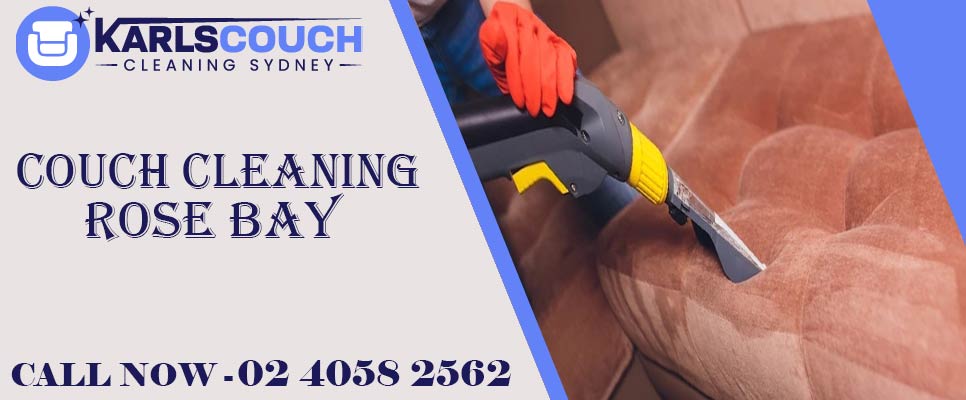 Top-notch Upholstery Cleaning Services in Rose Bay
Cleaning your sofas and couches has never been easier thanks to the variety of cleaning methods and styles available in Rose Bay. Here are some of the upholstery cleaning Rose Bay services you can expect from professional upholstery cleaners:
Professional steam cleaning utilizes high-tech tools, equipment, and expert techniques to quickly and efficiently clean your couches. It also has the added benefit of making your couches healthier and more hygienic.
Stubborn stains can make your couch look old and dirty. Fortunately, professional cleaners can remove even the toughest stains, leaving your couch looking brand new.
Eco-friendly products and chemicals are used to clean the surface of your couch, removing harmful elements such as dust, dirt, bacteria, germs, and mould.
Experts in upholstery cleaning offer odour removal and mould removal services for couches. They use a process of sanitization and deodorization to remove unpleasant smells and mould from your sofa.
Couch Shampooing
Shampooing your couch can be a time-consuming task. Professionals can do the job quickly and effectively, leaving your couch looking and smelling great.
Couch Scotchgard Protection is an essential service that keeps your couches healthy and prevents damage and messes from occurring.
Pet owners know that pets can leave unpleasant odours on their furniture. Professionals use chemical solutions to remove these odours from your couch.
Cleaning lounges at home can be tough, but professionals are experts at it. They offer effective lounge cleaning services to keep your home looking and smelling great.
Professional upholstery cleaners can provide perfect cleaning services for all types of fabric and leather couches. They deal with all kinds of fabric upholstery cleaning and leather upholstery cleaning, making your couch look perfect and appealing again.
Microfiber couches and microsuede couches require specialized cleaning techniques, but professionals are up to the task. They can clean all types of couches effectively, leaving them in top-notch condition.
Office Chair Cleaning
Cleaning multiple office chairs can be a hassle, but professionals are equipped to deal with this task quickly and efficiently. With the best quality upholstery steam cleaning in Rose Bay, you can trust the experts to keep your office chairs looking their best.
Our Process for Professional Upholstery Cleaning
Our couch and sofa cleaning Rose Bay team follows a specific process to provide professional upholstery cleaning services. Here is a breakdown of our process for upholstery steam cleaning in Rose Bay:
Firstly, our professionals will inspect the condition of your couch to determine the appropriate cleaning solutions and methods required. This pre-inspection helps us to understand the best approach for cleaning your upholstery.
After the inspection, we will use advanced cleaning techniques and tools, including handheld steamers, to clean your upholsteries effectively.
Finally, we will sanitize and deodorize the upholstery to maintain its hygiene and health.
Our Upholstery Cleaning Services Are Available In These Nearby Areas
Why Choose Karls Couch Cleaning Professional Team?
If you are looking for the best upholstery steam cleaning service in Rose Bay, then our team at Karls Couch Cleaning is a perfect choice. Here are some reasons why:
Our upholstery and lounge cleaning Rose Bay team consists of trained and skilled professionals who provide top-quality cleaning services.
We use advanced techniques and methods to clean upholsteries, sofas, and couches.
All our team members hold certifications from IICRC and other reputable cleaning institutions, which ensures that they are qualified professionals in their field.
We use high-powered steam cleaners for deep cleaning of couches, sofas, and upholstered furniture.
About Rose Bay
Rose Bay, a harbourside suburb situated in the eastern part of Sydney, New South Wales, Australia, is located 7 kilometres to the east of the central business district of Sydney. The suburb falls under the local government areas of Waverley Council (to the east of Old South Head Road) and the Municipality of Woollahra (towards the bay on its western side).
Postcode: 2029
Latitude: -33.8741421
Longitude: 151.2656891
Couch Cleaning Rose Bay
Call Us On 02 4058 2562 Same Day Couch Cleaning
Location: Rose Bay, NSW 2029, Australia