Contact The Best And Most Affordable Couch Cleaning Team In Chatswood
If you're looking for the best couch and upholstery cleaning services in Chatswood, look no further than Karls Couch Cleaning. Our team is renowned for providing top-quality services to make your couches and upholstery spotless. We are the most reliable team for all your couch and upholstery cleaning needs in Chatswood. Don't hesitate to call us at 02 4058 2562 to get our Couch Cleaning Chatswood services right away.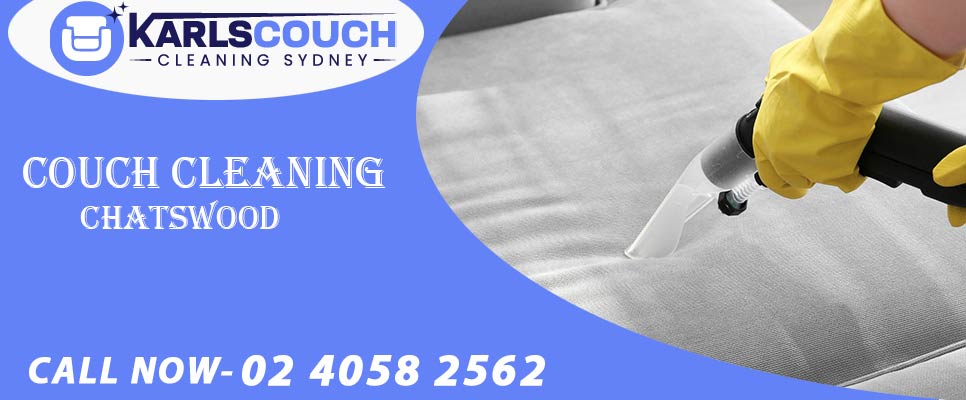 Benefits of Professional Couch and Upholstery Cleaning
Professional couch and upholstery cleaning can provide numerous benefits, in addition to producing the best results. These benefits include:
Prolonging the life of your couches and their upholstery
Safe and effective cleaning, as experts are well-versed in the cleaning process
Deep cleaning can get rid of even the most stubborn stains and improve the overall appearance of your furniture
Preventing the growth of mould
Improving indoor air quality and reducing the amount of particulate matter
Same-Day and Emergency Couch Cleaning Services in Chatswood
Cleaning your couches and upholstery can be a tiring task to do on your own. To avoid this, rely on our prompt and professional team. Our upholstery and couch cleaning services are available across all regions in Chatswood, whether it's a residential or commercial property. Karls Couch Cleaning Sydney same-day services are available within 24 hours of booking, and we also offer emergency upholstery cleaning services in Chatswood for urgent situations.
Our Wide Range Of Couch Cleaning Services In Chatswood
Our team provides a wide range of couch and upholstery cleaning services in Chatswood to meet our client's needs. Here are the services we offer:
Couch Steam Cleaning
For thorough cleaning that eliminates dirt particles and microbes, try our couch steam cleaning services. Contact us to schedule a cleaning session.
Couch Stain Removal
Our couch stain removal team can help you get rid of stubborn and old stains that detract from the look and feel of your couch. We use advanced techniques to remove even the toughest stains.
Couch Dry Cleaning
If your couch is sensitive to water or steam, we recommend our dry cleaning services. We use the right products to make your couch clean and dust-free.
Couch Odour and Mould Removal
If your couch emits an unpleasant odour or has mould growth, we can help. Our mould removal services remove odours and prevent mould from recurring.
Couch Shampooing
To make your couches look shiny and remove particulate matter, consider our couch shampooing services. We use the right detergents and agents to make your couches look their best.
Couch Scotchgard Protection
We offer couch Scotchgard protection to prevent your couches from getting stained by accidental spills. Contact us to schedule this service.
Couch Pet Odour Removal
If you have pets and need to remove odours and fur from your couch, we can help. Our experts provide pet odour removal services to make your couch comfortable to use again.
Lounge Cleaning Service
In addition to couches, we also offer lounge cleaning services. With our top-quality cleaning agents, we can make your lounges spotless and inviting.
Fabric and Leather Couch Cleaning
Whether you have a fabric or leather couch, our team has the expertise to clean it properly. We use different methods for each type of couch to achieve immaculate results.
Microfiber Couch Cleaning
If your couch is made of microfiber or microsuede, we have the right tools and techniques to clean it effectively. Our microfiber couch cleaning services are tailored to your needs.
Office Chair Cleaning
We understand that cleaning office chairs requires special attention and care. That's why our team offers reliable office chair cleaning services that will make your chairs look their best.
All Types Of Upholstery Our Professionals Clean
Our couch and sofa cleaning Chatswood experts are highly versatile and can clean various types of couches and upholstery. We customize our sanitising and deodorising services to ensure visible results. Here are some of the types we can clean:
Microfiber couches
Leather couches
Office chairs
Seat cushions
Couch arms
Recliners
Back pillows
Top cushions on both sides
Three-seater couches
Corner skirt panels
Side skirt couches
Inside arms (steam cleaning) and more.
How We Professionally Clean Your Couches and Upholstery
Our cleaning methods are customized and strategically approached to achieve great results. Our couch and upholstery cleaning Chatswood services are provided in the following steps:
Inspection of Couches: We thoroughly inspect all couches and their upholstery to customize our services and understand their condition.
Pretreatment and Vacuuming: This important step helps to make our services efficient and obtain effective results.
Suitable Cleaning Method: Our experts perform the most suitable and effective cleaning method based on the requirements.
Couch Protection Treatment: We provide a Scotchgard protection service to protect your couches.
Effective Drying: We use highly efficient dryers and dehumidifiers to get rid of all the water and moisture from your couches.
Final Inspection: Our experts conduct a final inspection to ensure there are no remnants left on your couches.
Areas We Serve Nearby Chatswood
Our professional services are also available in these nearby suburbs of Chatswood:
Why Choose Our Couch Cleaning Services?
Our clients highly appreciate our services for the following reasons:
Affordable Prices: We offer our services at reasonable and decent prices.
Easily Accessible: Our team is accessible and can be reached by phone.
Safe Cleaning: All our services are non-toxic and safe for you and your family members.
Latest Cleaning Methods: We use the latest methods to make your couches and upholstery spotless.
Competent Experts: All our experts are highly skilled and competent, and we are aware of all the cleaning methods.
About Chatswood
Chatswood is a significant business and residential district located on the Lower North Shore of Sydney, New South Wales, Australia. It is situated 10 kilometres north of the central business district of Sydney and serves as the administrative centre of the City of Willoughby local government area. The suburb is commonly referred to as "Chatty" by locals.
Postcode: 2067
Latitude: -33.7957514
Longitude: 151.1811446
Couch Cleaning Chatswood
Call Us On 02 4058 2562 24×7 Couch Cleaning
Location: Chatswood, NSW 2067, Australia