24*7 Professional Upholstery Cleaning Services In Baulkham Hills
Upholstery cleaning can be a challenging task to undertake at home. It requires a significant investment of time, energy, and effort to ensure that your sofa is thoroughly cleaned. Fortunately, you don't have to tackle this task by yourself.
With the help of Upholstery Cleaning Baulkham Hills service, you can have access to the expertise of one of the most reputable cleaning service providers in the area. Our team at Karls Couch Cleaning is composed of skilled cleaners who will deliver impeccable results. Contact us now at 02 4058 2562 to book our Couch Cleaning Sydney Service.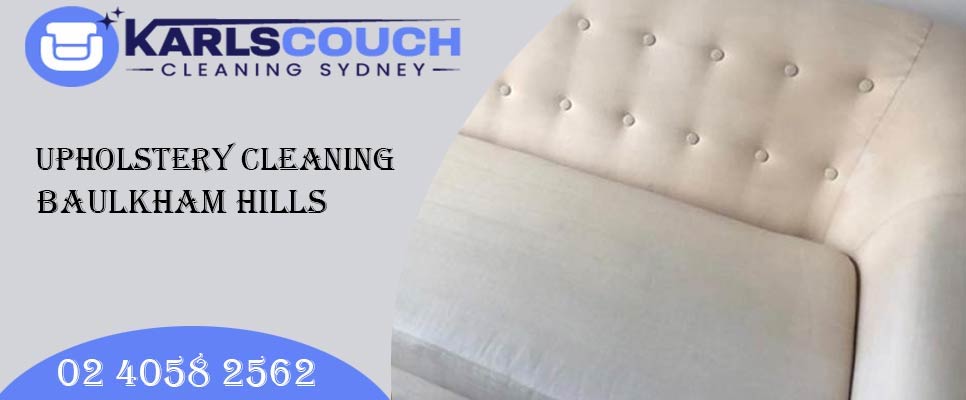 Significance of Hiring Certified Upholstery Cleaning Services
When it comes to maintaining the cleanliness of your upholstered furniture, it's always wise to rely on the expertise of certified upholstery cleaning service providers.
These professionals are equipped with the knowledge and skills required to deliver top-notch cleaning services that adhere to strict standards of quality.
With the help of the latest techniques and methods, they can effectively remove even the toughest stains and grime from your furniture.
Furthermore, their use of eco-friendly products and cleaning solutions ensures that your upholstery is cleaned thoroughly without harming the environment.
With deep cleaning of your sofas and couches, these service providers guarantee a spotless and hygienic living space.
Fast and Reliable Upholstery Cleaning Services for Emergencies
With our team of skilled professionals, you can rest assured that your upholstery cleaning needs will be met in the shortest time possible. What's more, our team of cleaners is locally based, which means that we can respond promptly to your needs whenever you require our expert assistance. We offer same-day and emergency couch and sofa cleaning Baulkham Hills services, giving you the peace of mind that you need in case of unexpected spills, stains, or other emergencies. Simply call us to book a slot, and we'll take care of the rest.
Learn About Our Exceptional Upholstery Cleaning Services
Couch Steam Cleaning
Our skilled professionals use effective steam cleaning solutions, moisture, and steamers to not only clean but also remove bacteria and allergens from your couch.
Couch Stain Removal
Stubborn and unhygienic stains on your couch are no match for our tested and effective stain removal solutions, which leave your couch looking its best.
Couch Dry Cleaning
Our professionals use vacuuming and dry cleaning products and solutions to clean your upholstery deeply.
Couch Odour & Mould Removal
Using advanced techniques and methods, our professionals are capable of removing odours and mould from your couch, leaving it fresh and clean.
Couch Shampooing
Our experts do a thorough shampooing and washing of your upholstery, cleaning it deeply.
Couch Scotchgard Protection
We provide Upholstery Scotchgard Protection by using a sheet to cover your sofa, preventing dirt, dust, and bacteria from settling inside.
Couch Pet Odor Removal
If pets have left odours on your couch, our professionals use superior cleaning methods to remove them, leaving your couch smelling fresh and clean.
Lounge Cleaning Service
Our professional lounge cleaning team can clean your lounges, which are harder to clean at home, leaving them in excellent condition.
Microfiber Cleaning Service
Our professionals provide microfiber upholstery cleaning and microsuede upholstery cleaning, giving your couch a spotless appearance.
Office Chair Cleaning
Our experts can handle the task of office chair cleaning with ease, cleaning all chairs in the office on the same day.
Our Professionals Clean Various Types Of Upholstery
Our professional upholstery cleaning services are capable of cleaning and sanitizing various types of sofas. We can clean different types of upholstery, including but not limited to:
Cotton
Silk
Leather
Olefin
Velvet
Linen
Our Process For Professional Upholstery Cleaning
Professional upholstery cleaning services follow a specific process to ensure high-quality results. Here's what the process typically involves:
Inspection: Our expert cleaners begin by inspecting the condition of your upholstery to determine the best cleaning methods and treatments.
Cleaning: Once the inspection is complete, our professionals will begin the cleaning process. They will use the appropriate techniques and treatments to ensure thorough and effective cleaning.
Post-Inspection: After the cleaning is complete, our professionals will conduct a post-inspection to ensure that no areas were missed and that the upholstery looks as good as new.
With our thorough and effective process, you can trust our professionals to deliver outstanding upholstery cleaning results.
Exceptional Upholstery Cleaning Services in Baulkham Hills and Surrounding Areas
Looking for top-notch upholstery cleaning services in Baulkham Hills and nearby areas? Look no further than our expert team at Sofa and Couch Cleaning Baulkham Hills. Our local cleaners are always ready to tackle any cleaning challenge, no matter where you're located.
We offer our exceptional cleaning services to a variety of areas, including:
No matter where you live, our team of professionals will make sure your upholstery is thoroughly cleaned and sanitized. Contact us today to schedule your appointment and see the difference for yourself.
Top Reasons to Hire Karls Couch Cleaning Professionals
If you're looking for expert upholstery cleaning services, Karls Couch Cleaning team is the right choice for you. Here are some reasons why you should choose us:
Advanced Methods and Technologies: Our professionals use unique and advanced methods and technologies to ensure effective cleaning of your upholsteries.
Affordable Pricing: We provide high-quality services to our customers at an affordable price. You don't have to break the bank to get your upholstery cleaned by professionals.
Experienced and Skilled Team: Our team has years of experience and knows exactly how to deal with all kinds of upholsteries. You can trust us to handle your upholstery with care and attention.
24/7 Booking: We offer flexible booking options and are available 24/7 to take your bookings.
Same Day and Emergency Services: We understand that emergencies can happen at any time. That's why we offer same-day and emergency services to our clients.
About Baulkham Hills
Baulkham Hills is a suburban area located in the Hills District of Greater Sydney, situated within the local government area of The Hills Shire in the state of New South Wales, Australia. It is approximately 30 kilometres northwest of Sydney's central business district and is recognized as the administrative centre of The Hills Shire. Being the most populous suburb within the Hills Shire, it is commonly referred to as "Baulko".
Postcode: 2153
Latitude: -33.753722
Longitude: 150.9829024
Upholstery Cleaning Baulkham Hills
Call Us On 02 4058 2562 24×7 Upholstery Cleaning
Location: Baulkham Hills, NSW 2153, Australia