Upholstery refers to the material required to make the furniture. However, it is not confined to the manufacturing of the furniture. It provides support and also structure to your furniture. It is important as it affects our health as well as the environment of our home.
Our furniture absorbs dust, allergens, and bacteria in the environment and results in disease-causing microbes. It not only causes diseases causing microbes but is also harmful to skin. Thus, cleaning is essential for our health and it also boosts the environment of your home.
Furniture fibers absorb dust, allergens, bacteria, spills, body odors, pet stains, hair, and more then spread these contaminants throughout our homes and release them into the air we breathe. If you are having children in the home, furniture can get dirtier, and should be cleaned at least every six months.
Here are some Upholstery Cleaning Benefits which you need to know that will help you in cleaning your furniture.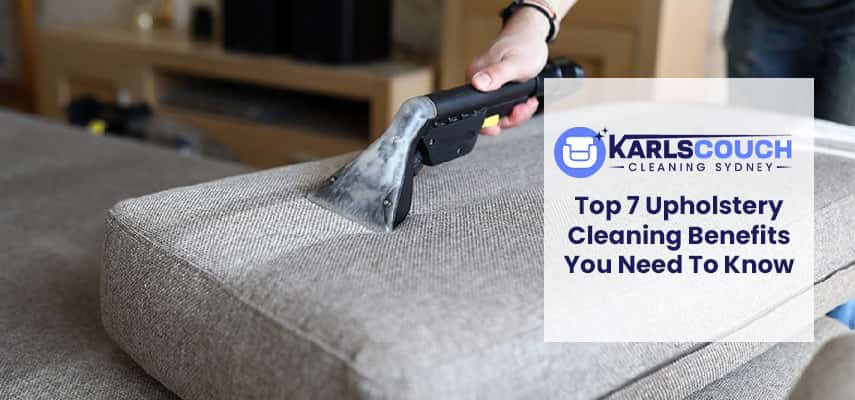 The top 7 Upholstery Cleaning Benefits Are:
Help To Kill Harmful Bacteria:
Regular Upholstery cleaning helps to kill harmful bacteria. Your fun inure absorbs dirt, allergens, and bacteria from the environment. Therefore dirty couches are more prone to causing skin issues or allergies. Regular cleaning will help you to prevent these harmful bacteria and improve the environment of your house.
Helps To Maintain A Sanitary Environment:
It helps to maintain a healthy environment. As regular cleaning kills 99.9 percent of germs and prevents odor. So, it is very essential to know about the Upholstery Cleaning Benefits.
Help To Remove Allergies Or Skin Problems:
As the furniture absorbs dust, stains, and allergens from the environment it would make your home full of allergies, as the bacteria which was on the ground will be absorbed in the fabric and cause allergies or other skin problems. Therefore, it is essential to remove allergies and maintain good health.
Goodbye To The Dust Or Dirt:
As you know, it absorbs a lot of dirt, bacteria, or dust from the environment which is unhygienic. You can prevent such conditions by vacuuming or using cleaning machines only if you know the Upholstery Cleaning Benefits.
Prevents Molds Or Pests:
Stains have the habit of leaving the moisture that causes mold growth. If you have the same issue, then you need to know about the Upholstery Cleaning Benefits. Otherwise, they will cause you to fall sick. However, using cleaning products, you can stop this from happening.
Improve The Quality Of Air:
As the dirty couches or furniture cause bad odor it affects the environment of your house. You can improve the environment of your house by cleaning your furniture or deep Upholstery cleaning it once a week.
Helps To Promote A Happy Environment:
As you know that it is more prone to dust and dirt. Dirty couches and furniture cause bad odor and also affect your health. But you can prevent these conditions by cleaning them once a week. This will promote a healthy and happy environment.
Conclusion:
We provide the best and quality services. We have been trusted for so many years, call us today at 02 4058 2562. If you want to know more information, please visit our website.