Couches are the most comfortable things in your house. They give a great look to your house and also give a good impression on people visiting your house. Sometimes these couches can get stained due to many reasons such as food and juice spills. Juice stains are one of them and these stains can ruin your couch's look. If these are not removed on time, they can completely damage the couch. There are many methods of removing orange juice stains. To get detailed information on how you get orange juice stains out of the couch, continue reading the blog or you can hire an upholstery cleaning expert for professional couch cleaning.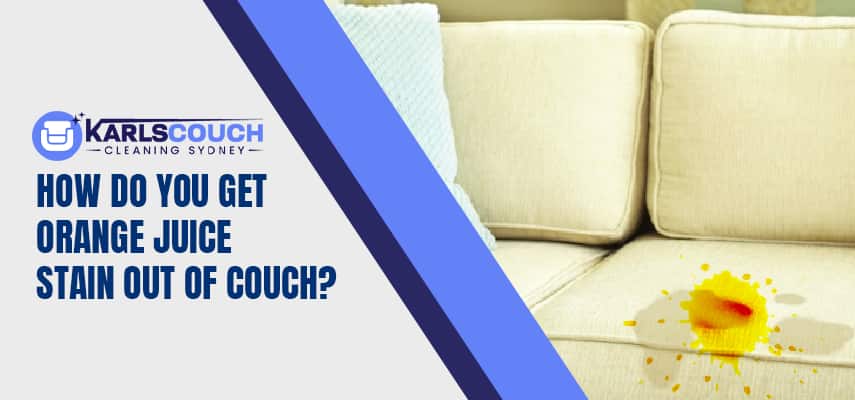 Steps To Get Rid Of Orange Juice Stain Out Of Couch
Step 1- Collect The Things Required- Before removing the stains from the couch, the things you require are given below-
Paper towel
Vegetable glycerine
Clean Cloth
Upholstery Enzyme cleaner
White vinegar
Hydrogen peroxide
Hair Dryer
Step 2- Scrape Away Or Blot Away Excess Orange Juice- It is important to remove the excess orange juice to remove stains from the couch. You can use a scraper and slowly remove the orange from it. You can also use a paper towel to remove excess juice from the couch. This step is very important to get orange juice stains out of the couch.
Step 3- Rub Vegetable Glycerine- Once you remove the excess juice, you can apply enough vegetable glycerine on the stains and let it settle for a few minutes. Vegetable glycerine is very useful for old stains and it is the easiest way to couch stain removal.
Step 4- Blot The Stain With Cool Water- Once you treat the stains with vegetable glycerine, you can blot the stain with cool water. All you need to do is soak a clean cloth with cool water and wring it properly and then blot the stains with the cloth.
Step 5- Apply Enzyme Cleaner- After treating the stains with cool water, enzyme cleaners come into the act. There are various enzyme cleaners available in the market, make sure you choose a cleaner that is effective for stain removal. Enzyme cleaner especially helps in removing the stains that are caused by food and other natural spills.
Step 6- Use Dish Liquid Or White Vinegar- In case you don't have enzyme cleaner, you can apply dish liquid and blot it with a clean cloth. Other than this you can mix one tablespoon of vinegar with eight tablespoons of water. Later blot this solution with the help of a clean cloth on the stains until the stains are removed.
Step 7- Apply Hydrogen Peroxide To The Stains- Sometimes, the stains are very stubborn, at this time you can apply hydrogen peroxide solution on the stains. First test this solution on a small part of the stain to make sure it doesn't affect the fabric of the couch.
Step 8- Air Dry The Couch- Once you get rid of all the stains from the couch, you must dry the couch. To dry the couch, you can first blot the stains with a clean dry cloth to remove excess solution and later use a hair dryer to completely dry the stains.
Hire Professionals – Save Your Couches
You can follow the above-given tips if you do not want professionals. There are many reasons why you need a professional couch cleaning service. Professionals help in many ways such as removing tough stains and bad odours from it. Professional microfiber couch cleaning will also help in saving you time and money. In case you are looking for top-class couch cleaners in Sydney, hire professionals at Karls Couch Cleaning Sydney. They are the most trusted couch cleaning service providers. With years of experience and talent, they offer all kinds of couch cleaning services at reasonable prices.